Victorian Crochet: A Sport of Its Own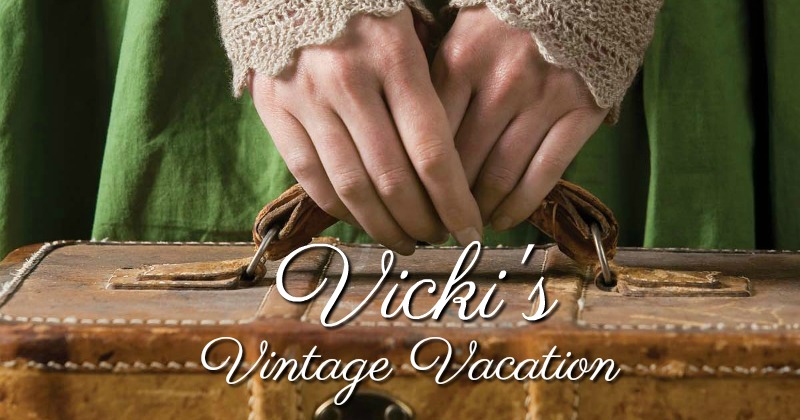 One hook. One yarn. Two hands. Add a creative mind to encourage the adventure, and you can be off into the wide world of crochet. It is frequently paired with knitting: "knitting and crochet yarns" or "patterns to knit and crochet." Yet, while they both use yarn in the creating, the process and the end result are distinct in personality.
I have a road bike and have enjoyed cycling on it for many years. Whether a week-long tour through the Rocky Mountains or just a few hours in a day, cycling is wonderful for body and mind. Working hard physically encourages the mind's creativity. I resisted getting a mountain bike because rocks and roots as potential trail hazards do not appeal. I am not interested in getting a "Gold Star" for taking a header into the scrub. However, my children took the decision out of my hands and gave me a mountain bike as a birthday gift. Amazingly, I have enjoyed biking off road. Road biking and mountain biking are both cycling, but they are completely different sports.
Likewise, crochet is as different from knitting. It is an entity unto itself. Yes, it is a needleart. Yes, you can crochet functional as well as nonfunctional pieces. And yes, the possibilities are endless!
Weldon's Practical Crochet, Volume 1, First Series eBook, provides an introductory set of instructions for basic Victorian crochet stitches with illustrations. They are a must to understand, as well as knowing the difference between British and American term usage. See the table below to compare the fundamental specific designations. It is important to determine the origin of any given pattern, or writing, so you know which path to follow.
Weldon's tells us that crochet, called "shepherd's knitting" by the Scottish, had only been commonly known in Great Britain from about 1838. Crochet, however, dates back to the sixteenth century and was considered "nun's work" because the nuns made "lovely laces." Crochet was well received in Great Britain because it was "simple yet most durable," and was found useful for a wide variety of applications.
There is a wealth of crochet patterns to be tried within the pages of Weldon's, and we get insight into the Victorian lifestyle and its usage. Baby jackets, bonnets, and boots are abundant, as are frocks for children, such as coats, hoods, dresses, and petticoats. Squares for quilts, round mats for lamp tables, and fancy medallions for antimacassars indicate that home decoration was avidly pursued. There are some lovely shawl patterns as well, any of which may be a seamless addition to any contemporary crochet inventory.
I chose the "Crochet Shawl. Omega Pattern." from Weldon's Practical Crochet, Volume 1, Second Series eBook to experiment with. Some personal experience and execution of technique is assumed here. "Procure Shetland or Andalusian wool of the colour preferred, and in sufficient quantity for the size of the shawl." Hmm . . . "Begin by working a chain for the length required." Hmm . . . I decided to read on, to see if I could do a bit of mathematical legerdemain to discover the number of stitches needed to complete a repeat. I chained 26 stitches for a swatch: a multiple of 6 plus the initial double crochet in the foundation chain, then I added one chain to accommodate the height of the first double crochet. The No. 10 or 9 bone crochet needle translates to a US size D/3 (3.25 mm), E/4 (3.5 mm), or F/5 (3.75 mm) crochet hook. I used a very light sportweight ivory wool with a D/3 hook (3.25 mm), which has a nice feel to it, yet not as open as the illustration. I worked a second sample of the stitch pattern (without the border) using a pink, hand-painted fingering weight yarn with a size F/5 (3.75 mm) hook, and it gave me an open finished fabric.
Crochet has such a vast range of diverse styles, from the fluid drape of an airy shawl to the sturdy structure of an outdoor jacket. I suspect its unique qualities contributed significantly to its popularity, as well as being easily learned, with a level of expertise readily attained. Crochet is also forgiving with minor discrepancies in the work, with none the wiser for simple adjustments made along the way. Are you one chain stitch off? Who will know in the grander scheme of it all? Treat crochet like the more free-form adventure it is, like I have with my mountain bike, and enjoy crochet as a sport of its very own!
Crochet merrily,
Vicki
Read the entire series of Vicki's Vintage Vacations!
---
Discover more about Victorian crochet in Weldon's!