Knitted Socks: Stars on Your Toes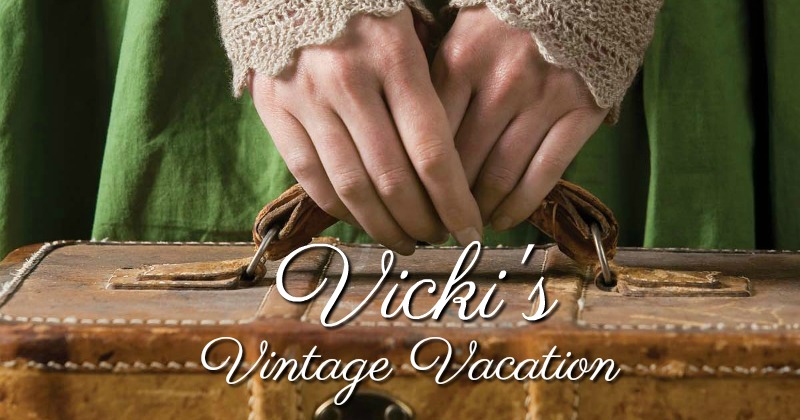 If you were limited to just one way to shape the toe of knitted socks, what method would you choose? I will occasionally ask myself silly questions like this one to promote entertaining the possibility of trying a new technique. We can all get so used to blazing a trail with our "tried and true" that we miss signposts that could take us off the beaten path for an adventure.
In an earlier blog post, "A Turn of the Sock Heel," I sampled different ways to turn a sock heel from Weldon's Practical Needlework. It's a veritable European smorgasbord of methods! You could try a Dutch Heel, a French Heel, a German Heel, a Balbriggan Heel, a Welsh heel… well, you get the idea. Weldon's also offers a variety of toe-shaping methods used by the Victorians. Some looked smoother than others, which drew my interest.
I like to research and experiment with methods new to me, and I like it even better if I can make a small, useful item in the process. I enjoy combining a few elements into one project of discovery. Hence, my low ankle sock experiment in fine silk. My goals were to try the German Heel and the Four Star toe shaping while working at a gauge of 10 or 11 stitches per inch (2.5 cm). Yikes! What good eyesight the Victorians had!
Using a fine silk singles yarn, at the ankle, I cast on 77 stitches with US size 0 (2.0 mm) knitting needles and worked for just 1 inch (2.5 cm). I followed the German Heel instructions, Weldon's Practical Stocking Knitter, First Series. Working with an average from other Weldon's sock specifications, I worked 43 heel stitches with a center seam and 34 instep stitches, which is 9 fewer than the heel as instructed. I shaped the gusset until I had 79 stitches. It's a lovely turning of the heel, and one I will use again.
After heel shaping and knitting the foot for length, I increased 1 stitch to reach the 80 stitches needed to begin the Four Star toe, also in Weldon's Practical Stocking Knitter, First Series. However, I needed to make a bit of text correction. In the left column, the instructions paragraph entitled "Star Toe of Five Points" is actually the text for "Star Toe of Four Points." Above it, also in the left column, are the instructions indicated for "Star Toe of Four Points," when it is actually text for "Start Toe of Five Points." I worked the "Star Toe of Four Points" shaping, which resulted in a smoothly formed toe silhouette with a very subtle textural star motif. The very last row and final finish is as unruffled as a calm sea.
Now, mind you, I was doing this as a bit of adventure and partially to prove to myself that my most used sock-toe shaping method was just fine, thank you very much, and I didn't need to change it. However, after knitting this beautiful toe, I will be rethinking my position, which is embedded in my own self-imposed tradition. If I were to now answer my initial question, potentially being limited to just one method to shape the toe of knitted socks, the "Star Toe of Four Points" would get top billing. It's very nearly perfect!
Victorian knitting patterns require some modifications for use with contemporary sock yarn, a bit of adjustment in stitch count is necessary, as 80 stitches yields a sock too large in circumference for most adults. The star shaping numbers need some tweaking as well, but the concept remains the same. Many sock patterns today are knit on 64 stitches. With that number, I wrote toe-shaping rounds to begin when foot length is knit to 2½ inches (6.35 cm) less than desired finished length. Here are my numbers:
Rnd 1: *K15, p1; rep from * 3 times.
Work 4 rounds even.
Rnd 6: *P2tog, k11, p2tog, k1; rep from * 3 times—56 sts.
Work 4 rounds even.
Rnd 11: *K1, p2tog, k7, p2tog, k1; rep from * 3 times—48 sts.
Work 4 round even.
Rnd 16: *K2, p2tog, k3, p2tog, k3; rep from * 3 times—40 sts.
Work 4 rounds even.
Rnd 21: *K3, p3tog, k4; rep from * 3 times—32 sts.
Rnd 22: *K2, p3tog, k3; rep from * 3 times—24 sts.
Rnd 23: *K1, p3tog, k2; rep from * 3 times—16 sts.
Rnd 24: *P3tog, k1; rep from * 3 times—8 sts.
Final Rnd: *P2tog; rep from * 3 times—4 sts.
With threaded tapestry needle, draw cut end through last sts to secure.
Try Weldon's fine gauge or my revised numbers for about 8 stitches per inch. You'll be dancing on your star–shaped twinkle toes! Read the entire series of Vicki's Vintage Vacations!
—Vicki
Have you knit sock heels and toes from Weldon's? Share with us in the comments below!
---
Knit Victorian-era socks from Weldon's!