What kind of knitting athlete are you?
I joined both the Knitting Olympics and the Ravelympics this year. I set my Olympic goals: To finish the Farmer's Market Cardigan. To knit a sock. To spin some luscious fibre. I made a schedule.
I organized each knitting project in a pretty box. At the opening ceremonies, I jumped in with both needles and knitted, and knitted, and knitted.
I must be insane. What was I thinking? I'm not a gold medal kind of gal. I'm not even a bronze medal kind of gal. I'm the kind of gal that goes to the Olympics, skates a respectable program, finishes in 7th place, and goes home to teach "Skating For Self-Esteem."
I'm also the kind of Olympics gal who, if I fell on the ice, would get right back up and skate the heck out of the rest of my four minutes. I wouldn't listen to the commentators who say, "Oh, it's all over for her, doesn't matter what she does now, she's out of the game." No, I'm not. Even if I fall on the ice, I'm still an Olympian. I still have the skills, and the heart, and the courage to put my skates to ice, and to TRY. (Seventh place at the Olympics is really spectacular, all things considered.)
As you can probably guess, I've fallen on the ice as far as my Olympic knitting goes. I knitted my little heart out, and then life intervened. I got the stomach flu, and then, when I tried to make up for lost time, I ended up with wrists too sore to knit for days. My sock project didn't get finished by the closing ceremonies, it's still there in its pretty little red box. The fibre is only half-spun. The sweater…well. You can see the results in the photos. I'm still working on the collar, with all its complex shaping and short-rows and cables (and ribbing, oh my!).
In terms of the official challenge, I failed. While my friends tried on their glorious cabled and colourworked 17-day sweaters, I sit on the sidelines with a sleeveless, collarless cardigan.


What happened?
I'll tell you what happened: At some point, I remembered who I am as a knitter–and stopped trying to be someone I'm not.
I'm a process gal when it comes to knitting. (I know. You'd never guess from all the step-by-step stuff I do here. I bet you're shocked.) On other knitblogs, you'll find pictures of finished objects galore, or beautiful photos with captions such as, "Half-way to the end!" as signposts to the final garment. My knitblog is more like a glimpse into my personal knitting notebook, a journal telling the story of my handknits' journey from cast-on to bind-off.
I don't speed-knit through my projects; thus, I don't have a closet overflowing with finished sweaters (whimper…oh well). I stop and study how the yarn flows through my hands, the effect of different needle positions, what happens if I try this and do that and make the yarn go there. I'm interested in how the knitting gets to look like this or that. I also want to know how to explain each stitch to others, so I'll often slow down and look at where my fingers are, what shapes the needles are making as they move, how the yarn tension affects the results.
Does this mean I should give up on knitting large projects and focus on smaller, technique-driven items? I don't think so. I feel there's a larger story arc to a larger project, and I like seeing how the big things come together. It may take me more time to see an end result, because I'm stopping along the way to investigate a new increase, or slowing my pace to see if I can knit a neater cable. So rather than give up on the long road to a sweater, I simply need to plan more time for the inevitable sightseeing along the way.
What does this mean in terms of future knitting, such as holiday projects, or gift knitting, or other Olympic endeavours? If I decide to participate in timed challenges of this sort, I have to remember what sort of knitting athlete I am. I'm not a speed-skater (where every millisecond counts and the glory is the finish line), I'm a figure skater (where every detail of foot placement and jump execution count, and the glory is technical and artistic expression). Instead of striving to knit an entire sweater in 17 days, I can set myself more appropriate goals: chart a lace pattern, swatch two new cable patterns, take an advanced knitting class, design a small lace something. For gift knitting, I need to choose smaller, less elaborate projects that are more likely to be completed, say, before the baby is a first-grader.
Sometimes I kind of forget myself, there, for a while. I think we all do this. We get caught up in the excitement of the challenge–whether that challenge is holiday knitting or a state fair competition or the next Knitting Olympics–and set goals that are wrong for us. We enter speed-skating when we ought to have entered in the half-pipe snowboarding competition. This can set us up for feeling like failures when we can't achieve the goals. The only thing we really failed at is knowing ourselves well enough to choose the right challenge.
Sooo. What sort of knitter are you? Half-pipe snowboarder, with technical tricks to show off, or speed skater, with stamina to speed to the end? Hockey or curling?
Knitter, know thyself. That's the real Olympic sport I unwittingly entered this year, the challenge to (re)discover myself. In that arena, I do believe I earned a gold medal. I'm proud of the work I've done on the Farmer's Market Cardi. Every stitch is neat, and difficult problems have been resolved in clever ways. I'm still learning new things with this project (I FINALLY learned to cable without a cable needle, thank you, Glenna!), and I know the finished result, whenever it is ready, will be something I can be proud of.
How was your Olympic experience? Did you learn anything new about yourself as a knitter? Share it with us in the comments!

Next week : What about a sewing-in-sleeves tutorial? I'm thinking I might have sleeves to sew in next week. Several of you mentioned you would like a tutorial for this, so let's see what I can do for you there.


May your knitting continue to surprise and delight you.
– Sandi
Sandi Wiseheart is the founding editor of Knitting Daily. You can find her blogging here on Knitting Daily every Thursday. Want more? Visit Sandi's personal blog, wiseheart knits. Or, if you're on Twitter, follow her tweets: alpacasandi.

---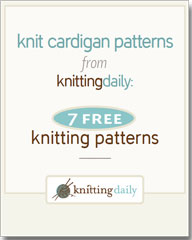 Every knitter has dreamed of the perfect cardigan pattern that he or she might knit some day. From a cozy cable knit to luminous lace, this free ebook will be your dream come true. This is a wonderful and varied collection of cardigans-which is one of the most important pieces in your wardrobe. You'll want to make every one of these knit cardigan patterns, so download your free eBook now and get started (and don't forget to tell a friend so they can enjoy their own copy!).