What Does "Yarn Held Doubled" Mean?
In Knitscene Winter, we inadvertently have quite a few patterns in which the yarn is held doubled to work the project. Joann Roger's Hanne Sweater is one of those, but most of them showed up in Mixed Media, our collection featuring marled yarn.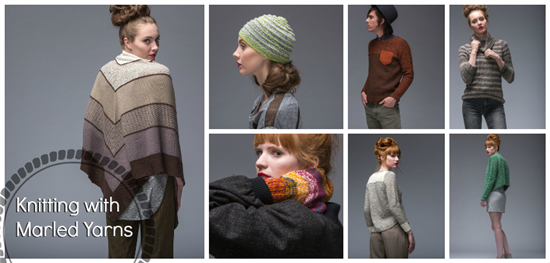 The term "marled" is thought to have come from a variation of "marbled"—the yarns, like the ubiquitous building material, contains a main color shot through with a secondary color for a particular effect. You can purchase marled yarn, in which a strand of one color is plied with a strand of another color, as seen in the Tongshan Pullover, Purbeck Pullover, and Paros Hat. But you can also make marled yarn, or achieve the same look, by holding two strands of yarn together when knitting. Zsuzsa Kiss's Carrara Shawl, Annie Watts's Siena Mittens, Leah B. Thibault's Malaga Pullover, and Kristen Orme's Kolmården Jacket are all worked by holding two strands of yarn (sometimes of the same color). I used the Jamieson's Shetland Spindrift from the Kolmården Jacket to show what this looks like on the needles.
Holding two strands of yarn together understandably makes the yarn thicker and can affect the gauge. For instance, if you hold two fingering weight yarns together, you'll get a finished gauge that's similar to a double knitting yarn. Two sport weight yarns held together resemble a worsted weight yarn in the finished fabric. Working with yarn held doubled can be really fun, and really fast, but managing the yarns can be a bit tricky. If you work from two separate balls or cakes of yarn, you can end up with a tangled mess.
When working with my yarn held doubled, I like to wind the yarns together on a ball winder. You want to try to only wind the yarn right before you're about to use it, so it doesn't get stretched or pulled in a way that might affect your gauge, and the same goes when winding the doubled yarn cakes. If your yarn comes in skein form, you will need to wind one of the skeins first, so there is an added step, but doing this makes the yarn much more manageable, and much more portable.
You can place two yarns on the winder the same way as one.
If you're using heavier yarns, you might need to wind the yarns by hand.
Whee!!!
You'll end up with a cake that looks like any other yarn cake, but with two colors shot through.
And then you knit from one ball just as you one if you only had one color in the cake.
Working from one cake of yarn means I can take a project on the go with me much easier than if I had to carry two or more cakes around. And, superficially speaking, it's really pretty!
Got any tips for managing yarn held doubled? Share them in the comments!