Vintage Knitting Designs: 3 Books, 1 Great Price
Here's a little secret: Knitscene Spring 2016 has a whole section of knitting designs inspired by vintage fashion. I was initially influenced by watching ABC's Agent Carter, because who wouldn't be?!
image from Hollywood Report article
Here's a snap of one of my favorite pieces from this collection.
Because of this resurgence of our love of vintage-inspired knitting designs, we pulled together a bundle of books designed to infuse your wardrobe with retro knitting flair. The Vintage Knitting Design Collection features three books that are all about vintage knitting.
First up we have Vintage Knits for Him & Her: 30 Modern Knitting Patterns for Stylish Vintage Knitwear by Ame England. This adorable book includes great designs inspired by '50s, '60s, and '70s fashion looks. My favorites come from the '50s chapter—I want to make pretty much everything in that chapter—but there are great pieces throughout the book that I'd love to include in my wardrobe. My absolute must-have is the 3/4 sleeve sweater… or maybe it's the short-sleeve sweater. This is a great book for lovers of Mad Men–style fashion.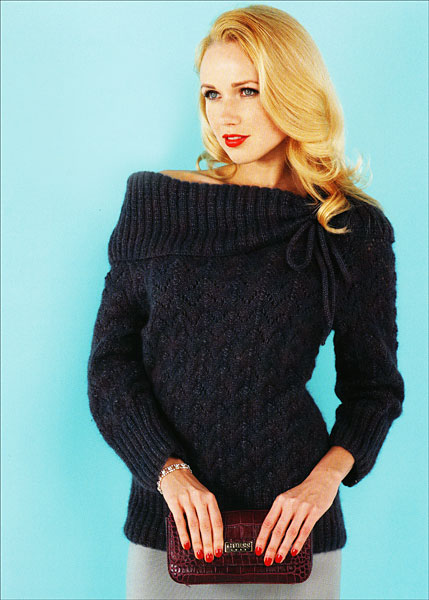 Next, there's Jennie Atkinson's A Handknit Romance: 22 Vintage Designs with Lovely Details. 
If Vintage Knits for Him and Her is great for Mad Men fans, A Handknit Romance is perfect for those knitters who churn out pieces while watching Downton Abbey over and over again. The twenty-two knitting designs in this volume feature delicate, refined details to make any vintage fashion lover swoon. There's a lot of lace and a little tasteful bling contained in these pages.
Finally, there's Vintage Design Workshop: Knitting Techniques for Modern Style.
Written by Geraldine Warner, this book doesn't contain any knitting patterns. Instead, it's a journey through various techniques to update vintage knitting patterns to modern day standards. There's so many sources for vintage knitting patterns out there—I've got quite a collection of old leaflets and vintage Vogue Knitting issues that have great pieces I'd love to adapt for my modern body. Having a resource such as Vintage Design Workshop will make that endeavor so much easier!
We've got these three books bundled together in one collection for an unbelievable price.  Order your Vintage Knitting Design Collection today!
Save