Tips For Choosing The Perfect Yarn

One day not too long ago, I walked into a conference room at Interweave only to see that it was filled with kimonos–a dozen or more gloriously knitted garments, all with graceful sleeves, flowing lines, and elegant styling. I'd never seen a knitted kimono before, not up close, and so I spent a happy few minutes before my next meeting examining these lovelies more closely. As it turned out, these were the sample kimonos for Vicki Square's new book Knit Kimono: Designs with Simple Shapes, published this fall by my co-workers over in Interweave's book department.
These kimonos were fabulous. Some were plain; some were fancy. Each one used basic rectangular shapes as canvases for some artistic feature: color, pattern, design. Each one was quite modern–knit in lovely yarns such as bamboo, linen, silk, cotton–but each one held echoes of the long Japanese love affair with the kimono. And each one was gorgeous.
But kimonos have no shaping, 'tis true. We've talked so much about shaping and fit that you might think that you dare not wear anything unless it's covered in bust darts, short rows, and waist shaping, from neck to hem! However, many garments–coats, cardigans, and the lovely kimono–derive their truest beauty from the flow of fabric, the play of light and color, the sheer glory of the knitting itself. This means that yarn choice, and color choice, are all-important.

Tips for Choosing Yarn for a Kimono, Cardigan, or Coat
Actually…the truth is that the tips below are important for choosing yarn for any project, period. But if the garment is all about the flow of the fabric, as with a kimono, then it's doubly important to make sure you choose the right yarn.
Drape: If you want to use a yarn different than the one specified, drape is perhaps the most important factor to consider. Knit a BIG swatch–the bigger the yarn and needle size, the bigger the swatch you'll need. Wash your swatch, block it, let it dry…and then pin it up on the wall so it hangs vertically. Leave it there for a few days, more if you can stand it. (I know. You want to cast on NOW. I'm the same way. Carry some yarn around in your pocket and pet it when you get itchy fingers. But let the swatch hang there. It's really important.) Then, see how the fabric turns out. Did the swatch keep its shape, or did it stretch too much vertically? Does the swatch feel stiff, or does it flow? Experiment BEFORE you cast on and work a hundred rows only to find out it's a disaster.

Yarn texture: Is the yarn bumpy? Smooth? Shiny? Fuzzy? A smooth yarn can lend sleekness; however, the smoothness might also mean that the garment will not keep its shape. (Swatch time!) A thick bumpy yarn can add personality, but it can also add bulk, particularly if it does not drape well. In a large garment, a big yarn with a lot of texture can make the entire garment look bigger! Does this mean big folk ought not to wear big yarns? I know some designers think that. I think you can consider your particular personality, the shape of your garments, the type of yarn, and choose for yourself. Why? Because we're all very different–what makes one woman look frumpy might make another woman look positively majestic. On the other hand: Some textured yarns will make a kimono come alive, if the drape is there. (Swatch, swatch, swatch.)
Solids versus handpaints: Oh, how we all adore those gorgeous handpainted yarns! For a jacket or kimono, you want to consider the scale and pattern of the color changes: Are they subtle, almost like a watercolor? Are they small, like in a sock yarn? Are they livin' large, like some of the woolly handpaints out there? A big swatch will help you to see how the color changes will affect the overall look of the garment. Some folks recommend starting with the sleeve and using that as your swatch. If you have the patience for this, it's an excellent way to see how the yarn looks on the actual "canvas."
Color: Before you knit a pattern exactly as shown in the photo, down to the color choice, consider this: The color the designer chooses to show off the sweater to its best may not be the color that shows off YOU best! Think of the color shown as a "serving suggestion" only. Know what looks good on you, and don't be afraid to experiment. Remember the Modern Quilt Wrap and its many colors? Some folks wanted to make it in exactly THOSE colors; others played with their own colorways and came up with some stunningly lovely variations. Let out your inner artist, and learn to trust your instincts.
WEDNESDAY: Vicki Square herself, live and in person on Knitting Daily! Don't miss it.
— Sandi
PSSST! Today is the last day to enter Franklin Habit's Caption Contest! C'mon, show us your funny bone…
---
Learn how to knit your own stunning kimono!
Vicki Square's Knit Kimono has 18 gorgeous knitted kimono patterns, each with a lovely modern twist on ancient Japanese tradition. Included is a wonderful section on designing your own kimono, as well as historical and cultural tidbits throughout. Learn more about this wonderful book.
Look for this and other Interweave books at your local yarn shop.

Sandi Wiseheart is the founding editor of Knitting Daily. She is now the author of the popular Knitting Daily blog: What's on Sandi's Needles.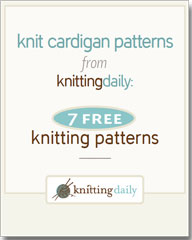 Every knitter has dreamed of the perfect cardigan pattern that he or she might knit some day. From a cozy cable knit to luminous lace, this free ebook will be your dream come true. This is a wonderful and varied collection of cardigans-which is one of the most important pieces in your wardrobe. You'll want to make every one of these knit cardigan patterns, so download your free eBook now and get started (and don't forget to tell a friend so they can enjoy their own copy!).