They're Here! The Knits Winter 2008 Galleries: Part One
Yes, it's that time again: Time for the Knitting Daily Galleries!
Each time a new issue of Interweave Knits comes out, a group of us in the Interweave offices gather to try on some of the wonderful garments from the magazine, and we take photos to help you see how the sweaters look on different women with different body types.
Here are three of the garments from Interweave Knits Winter 2008, worn by seven women from Interweave:
Blooming Cardigan by Sarah Hoadley
Climbing Vines Pullover by Joëlle Meier Rioux
Ropes and Picots Cardigan by Laura Grutzeck
Which sweater is best for your body type?

Let's say that you want to knit a sweater. Let's say that since you are clearly a person of extremely good taste, with a refined sense of style and beauty, you want to knit a sweater out of our new Winter 2008 issue of Interweave Knits.
And let's say that right now, you're not in the mood to make a bazillion adjustments and tweaks to a pattern to make it flatter you. Sure, you can make those adjustments, because you've been reading Knitting Daily and you have the Waist Shaping Calculator and the Bust Dart Worksheet and you know how to use them.
But not this time. This time, you just want to knit, more or less straight from the pattern. (A little length adjustment at cuff or hem is fine, you think; but no bust darts or anything like that.)
So. Which pattern from the Winter Knits 2008 issue would you choose, and how would you go about choosing it?
This week's post are here to help you do that, with the help of six lovely Gallery Gals and yours truly. We're going to take a look at body types, and what kind of sweater is flattering for which type "straight out of the box," so to speak–straight from the magazine, no major adjustments (other than size or length) needed.
So this time, the sweater fits everyone in our Galleries, but it fits each of our Gallery Gals a bit differently due to her personal body type; each sweater of course also looks different on each woman due to her individual style.
My question to you is: Which sweater is best for which body type? All of the sweaters are beautiful; all of our Gallery Gals are also beautiful, each in their own way. But if each of our Gallery Gals–Toni, Annie, Debbie, Stefanie, and two new additions, the lovely Bonnie and the amazing Meghan–wanted to choose the most flattering sweater for their body type, which one would you tell them to knit?
And which one would YOU knit for yourself, based on your own body type?
Body type and fashion are tough to teach in words. Therefore, I've cooked up something special this time for you: I've made pages for individual Gallery Gals, showing one woman wearing many sweaters, with comments as to what each style plays up–and plays down–for that woman. Here are three for today:
Pages for other gals will be posted on Wednesday. Each woman's page includes a few garments from past Galleries (if available) as well as the new sweaters, so you can compare a range of styles for each woman.
Note that we're only looking at body shapes and types this week; so no measurements. You could be a really large-framed woman and have the same shape as petite Annie; you could be tiny and have curves like mine!
For each woman, leave a comment letting us know which sweater you think is best for her body type–and why! Hopefully, this will help you to find the sweater that is best for YOU.
— Sandi
---
Want to see more of the beautiful sweaters from Interweave Knits Winter 2008?
View the Knits Winter Preview, with pattern information, bonus photos from the magazine photoshoot, and more!
Before I came to work for Interweave, a dear friend of mine gave me a wonderful Christmas gift–subscriptions to three Interweave magazines! I remember being so touched that this friend had gone to all the trouble to find out what magazines were out there, and to research the best ones (seriously, that's what he told me, he "researched the best ones"! Which magazines did he gift me with that holiday season? Spin-Off, Handwoven, and Beadwork–because I already had a subscription to Interweave Knits!).
If there's a knitter in your life, give them the gift of great knitting patterns and informative articles about all aspects of knitting—give them the gift of a subscription to Interweave Knits. And for the other crafters around you, check out the entire family of Interweave magazines–from crocheting to painting and drawing, from quilting to beading and jewelry making, there's something there for everyone who loves to create beautiful things.
---

Sandi Wiseheart is the founding editor of Knitting Daily. She is now the author of the popular Knitting Daily blog: What's on Sandi's Needles.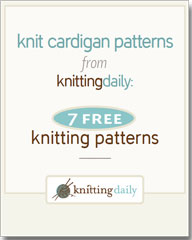 Every knitter has dreamed of the perfect cardigan pattern that he or she might knit some day. From a cozy cable knit to luminous lace, this free ebook will be your dream come true. This is a wonderful and varied collection of cardigans-which is one of the most important pieces in your wardrobe. You'll want to make every one of these knit cardigan patterns, so download your free eBook now and get started (and don't forget to tell a friend so they can enjoy their own copy!).