The Knitscene Galleries Begin!
You Voted For Them!
Two weeks ago, I asked you to vote for the garments you'd like us to include in the very first KD Knitscene Gallery (what's a Gallery? see below). Your votes are in, and here are your top Gallery choices (in no particular order):
Ahlstrom Bodice by Lou Schiela
Brocade Leaves Pullover by Kathy Zimmerman
Dirndl Raglan by Amanda Furlan
Kaftan Dress by Salena Lee
Opulent Raglan by Wendy Bernard
Riding to Avalon by Connie Chang Chinchio
Today, we have two Galleries ready for you to enjoy (while we finish getting the others ready!):
This time, eight Gallery Gals gathered in a tiny basement photography studio to have our photos taken by Ann Swanson, a talented photographer for many of our Interweave magazines and books. I bought a pretty curtain to serve as a backdrop and borrowed a plant from someone's office to give a bit of atmosphere. The new set-up gave us all a chance to really focus on making sure everything was just right: How do you show off a pretty bit of waist shaping? What is the best position to stand in? Is it better to take a front view, a side view, or both? And most important of all: What the heck do you do with your HANDS?
As you will see, we did a lot of experimenting with all of the above, in an effort to really show off the garments, their fit, and their style, to all of you. We had a fabulous time! We hope you enjoy the Galleries half as much as we enjoyed doing them.
Stay tuned for more Galleries: Coming Up: The Kaftan Dress, Opulent Raglan, Dirndl Raglan, and Riding to Avalon.
---
What's a Gallery? It's where I take the original sample garment from the magazine and persuade several women try it on and let me take their photo, to show you different varieties of fit and flatter. I provide individual commentaries for each picture, with suggestions for customization for each woman. There's only one garment for each design, so sometimes the sweater doesn't fit–that's where the commentaries get really interesting, as we explore why it doesn't fit, and how to alter it so it does fit!

Sandi Wiseheart is the founding editor of Knitting Daily. She is now the author of the popular Knitting Daily blog: What's on Sandi's Needles.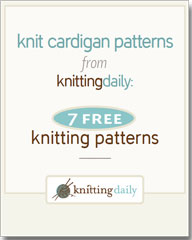 Every knitter has dreamed of the perfect cardigan pattern that he or she might knit some day. From a cozy cable knit to luminous lace, this free ebook will be your dream come true. This is a wonderful and varied collection of cardigans-which is one of the most important pieces in your wardrobe. You'll want to make every one of these knit cardigan patterns, so download your free eBook now and get started (and don't forget to tell a friend so they can enjoy their own copy!).