The Colette Pullover Gallery (Plus: The Question of Height)
Debbie wears the Colette
The Colette Pullover
by Katie Himmelberg, assistant editor of Interweave Knits
View The Colette Pullover Gallery
The raglan lines of this sweater are complementary to any body type, as is the refined silhouette with waist shaping and a high-hip hem. The tall collar frames the face in a flattering way. I'd recommend choosing a size with positive ease (larger than your actual measurements) for a comfortable fit. The all-over color work creates a thick but not stiff fabric and you'll want some room for movement in this sweater. Remember to measure your hips, bust, and waist and check the schematic when choosing your size.
Veronik Avery is certainly a master of all the fine details we like to see in our knitting; look closely at the ribbed cuffs and collar and you'll notice the tiny cables enhancing the ribbing.
If you want to switch up the colors, again contrast is key. If you're looking for a bolder look, a simple way to add more colors would be to create colored 'stripes" of kittens; switch the kitten color each chart repeat. Just like the Henley Perfected, the Colette has a detail that you'll want to make sure hits you in the best spot—the waist! Be sure to measure for both the overall length of the sweater and the beginning of the waist shaping to best showcase your curves.
This sweater strikes me as something I'd pull on for a walk on a chilly winter night, and I picture myself wearing it with corduroys. It would be a nice rustic pairing and would certainly keep you warm and toasty.
---
A bit tighter than I'd ordinarily wear, but still pretty!
Does Height Matter? Here's Why Sandi Thinks Not…
Many of you have asked for the models' heights in our Knitting Daily galleries, saying that you can't really compare fit unless you can compare the model's height to your own.
I've resisted providing heights until now, because, well, let's think about it: long (or short) legs have little to do with how a sweater will fit you. Of course, you do want to make sure the overall style and design of the sweater are in proportion to the "overall you," but the critical measurements for determining good fit are the ones shown on the pattern schematic, those relating to torso length and torso circumference. The schematic is a really valuable source of information; I think a lot of us don't adequately respect the wealth of information provided by the schematic. Sooo, to encourage more Schematic Respect, I'm going to start providing a bit more information about our models' measurements as they correspond to the magic schematic.
For the Colette Gallery, note that the relevant measurements of the finished sample garment are at the top of the page; those are taken directly from the schematic (or, in the case of the hem-to-waist length, carefully calculated from the number of rounds stated in the pattern). Then scroll down to see the Interweave Gals wearing the sweater; notice that I was able to re-measure some of them so you can compare the differences between actual measurements and schematic measurements in more detail. The new measurements (including height, especially for you, Alex D.!) are only on the Colette Gallery right now; I'll go back and add them to the other galleries and other model photos as soon as I can.
As for our wonderful Knitting Daily models: It's pretty tough to get up the guts to put your measurements out on the Internet for all to see and comment upon. I'd like to say a huge THANK YOU to all of our models for being brave enough to do something that helps us all be better knitters!
---

Sandi Wiseheart is the founding editor of Knitting Daily. She is now the author of the popular Knitting Daily blog: What's on Sandi's Needles.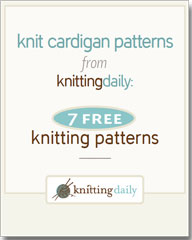 Every knitter has dreamed of the perfect cardigan pattern that he or she might knit some day. From a cozy cable knit to luminous lace, this free ebook will be your dream come true. This is a wonderful and varied collection of cardigans-which is one of the most important pieces in your wardrobe. You'll want to make every one of these knit cardigan patterns, so download your free eBook now and get started (and don't forget to tell a friend so they can enjoy their own copy!).