The 1824 Blouson: A Gallery
The 1824 Blouson by Mari Lynn Patrick, from the Summer 2007 issue of Interweave Knits, was one of your top picks for a Knitting Daily Sweater Gallery, so five of us Interweavers, plus the ever-obliging Bertha, modelled the sample garment for you: The 1824 Blouson Gallery.
Our findings: We all loved wearing this sweater. It was comfortable, the lovely dressmaker details made it just a bit special, and the cotton yarn had just a bit of give–but not so much give that we worried about the sweater "growing" on us!
One question I've heard asked a lot about the Blouson is: What size should I make? After seeing this sweater on the Five Plus Bertha, my personal opinion is that this sweater is an excellent example of something that looks great with a bit of negative ease calculated in. If you'll recall, ease is a way of describing the extra fabric that allows space between you and your garments–space for things like moving, breathing, comfort, and extra layers of other clothing. Negative ease means that there is a negative amount of "extra" fabric, so the fabric must stretch to cover your body.

The Blouson pattern is in here!
So to make an example of myself (as usual!): Take a look at the photo of me in the sample Blouson, which measures 36.5" at the fullest part of the bust. I have a 43" bust, and all my co-workers agreed that the sample looked pretty cute on me, even in a size that is two sizes down from the size that most closely matches my actual measurements. In other words: That sample on me is 6.5" of negative ease, which is a LOT of stretching over those Sandi curves. If I wanted something with a little more ease/roominess, I would make the 40.5" size, which would have 2.5" of negative ease–I think that it would probably still look great, without too much bagginess.
But what about gals who are less curvy than me–or more curvy? The 1824 Blouson is not meant to fit as closely as the Corset Pullover, and so it does not have as many opportunities for customization for individual curves. Therefore, your "homework assignment" for The 1824 Blouson Gallery is: As you look at the photos of the Five Plus Bertha in the sample sweater, ask yourself: Do you like the way the 36.5" sample size fits each one of us? If not, what size would you suggest each woman make, and why?
Once you've run through this little exercise, it may be easier to figure out what size you'd choose for yourself. We'll do the same thing on Wednesday with the Oriel Lace Blouse, and on Friday with the Origami Cardigan.


Summer Wheat Tank
---
This week's featured free pattern is the
Summer Wheat Tank
, by Lisa Shroyer, the editor of
Knitscene
and the projects editor for
Interweave Knits
. Lisa has a passion for designing garments that look good on a variety of body shapes and sizes, and she designed Summer Wheat with an interesting wrap-over panel at the midsection to give the illusion of a waist and curves where perhaps nature has not provided adequately in that regard.
---

Sandi Wiseheart is the founding editor of Knitting Daily. She is now the author of the popular Knitting Daily blog: What's on Sandi's Needles.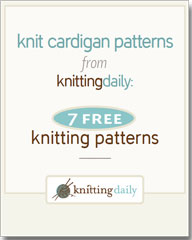 Every knitter has dreamed of the perfect cardigan pattern that he or she might knit some day. From a cozy cable knit to luminous lace, this free ebook will be your dream come true. This is a wonderful and varied collection of cardigans-which is one of the most important pieces in your wardrobe. You'll want to make every one of these knit cardigan patterns, so download your free eBook now and get started (and don't forget to tell a friend so they can enjoy their own copy!).