Summer Knits Gallery, Part Two!
We have five more Knitting Daily Galleries for you today! The truth is that we Gallery Gals had so much fun trying on the garments from the Summer 2008 issue of Knits that we more or less couldn't stop ourselves. Who can blame us?
For those of you who don't know, every time a new issue of Interweave Knits comes out, I gather together a bunch of the women in the office and ask them to try on the sample garments from the magazine. Then I take photos, and voila: the Knitting Daily Galleries! We do this so you can see the garments on a range of body types and sizes. Also included are notes on how each of the garments could be modified for a better fit on each of our Gallery Gals.

Elizabeth in the Apres Surf Hoodie
Here are today's five Galleries:
Drawstring Raglan by Margery Winter
Imprint Tank by Sarah Hoadley
Plaid Halter by Gryphon Perkins
Wakame Lace Tunic by Angela Hahn
Apres Surf Hoodie by Connie Chang Chinchio
I hope you find these Galleries both fun and helpful. They've become a tradition here at Knitting Daily, partly because you've told us how much you love them!
Enjoy!
—Sandi
List of all past Gallery pages
Information about positive and negative ease
---
Did you find something particularly helpful in these Galleries? Come back and let us know! Really. We love to hear from you. Yes…REALLY.
---

Sandi Wiseheart is the founding editor of Knitting Daily. She is now the author of the popular Knitting Daily blog: What's on Sandi's Needles.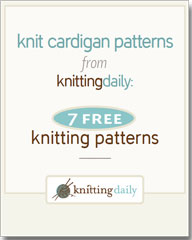 Every knitter has dreamed of the perfect cardigan pattern that he or she might knit some day. From a cozy cable knit to luminous lace, this free ebook will be your dream come true. This is a wonderful and varied collection of cardigans-which is one of the most important pieces in your wardrobe. You'll want to make every one of these knit cardigan patterns, so download your free eBook now and get started (and don't forget to tell a friend so they can enjoy their own copy!).