Steeks, Continued: Of Facings and Frayed Edges
Are you ready for the next installment in my adventures knitting the Farmer's Market Cardigan? Sure you are!
---
Last week, I was so high on the whole cutting-my-knitting-experience that I blithely typed the following bit of knitterly hand-waving:
Remember, the steek panel itself will become a facing–I will turn the edges under at the purl ridge. Then I will whipstitch the raw edges down.
Once I sat down with the actual sweater body to work on the actual front-edge facings it became clear, once again, are-you-bored-with-hearing this-yet, that nothing is as easy as it seems.
---
There were two tasks ahead of me with respect to the facing:
(1) Secure the frayed edges in some neat, tailored sort of way; and
(2) Stitch the facing down to the sweater without it being seen on the right side of the garment.
---
The dilemma: I'd never seen a steek facing done in real life. I'd seen photos of pretty grosgrain ribbons sewn neatly along front edges, and I had a few blog entries and Internet articles showing how to stitch things down with blanket stitch or whipstitch. But no step-by-step photos, no detailed instructions.
I was not born with the knowledge of steeks imprinted in my synapses. I require tutorials. I require hand-holding. (I also need to have this sweater done in time for the fibre retreat I am going to at the end of February, but that perhaps is a different level of need…)
And then one blogger mentioned knitting a facing by picking up stitches along the frayed edge. She even described knitting a pretty little design into her facing to complement her lovely sweater.
---
A knitted facing?! I could KNIT a facing? No one said anything about a knitted-in facing. In fact, I had been planning to use grosgrain ribbon to cover the cut edges of the steek. I just hadn't found the perfect matching grosgrain ribbon yet.
But a knitted facing…And that's when the lightbulb went on. Suddenly, I could see the whole process, and how one did it, and what it would look like (and the fact that my sweater could be done in time for my retreat. Yay!). I grabbed a swatch I'd done with the sweater yarn, and pelted upstairs for a bit of a rummage through my yarn bins.
I wanted to use a thinner yarn for the facing in order to reduce bulk. I chose a lovely handpainted merino sock yarn (Koigu) in complementary colours and a needle size that corresponded to the sock yarn's weight (size 1.5 U.S./2.5mm). Note on colour choice: Normally, I might have chosen something that would blend in a bit more, but for purposes of photography, I figured a little extra colour couldn't hurt. But still: Pretty, yes?
---
 Inserting a Knitted Facing

 
 


I picked up the vertical loops one full stitch-width away from the purl turning column.
 

Step 1:

Pick up and knit stitches along the cut edge of the sweater front.

How many stitches? I picked up three stitches for every two vertical loops, given the standard ratio of knitted stitches being about a third higher than they are wide.

The truth is that I just winged it. I never counted, I just picked up stitches and adjusted the total until it laid flat and "looked right." (I trusted myself and since we're all fearless knitters here, you can trust yourselves, too.)

 

---

 

 

Step 2:

If you are like me, you pick up stitches with the right side of the work facing you. Thus, the next row is a wrong-side row.

Work the first WS row as a KNIT row, so that it produces a ridge of bumps on the right side of the work. This will help the knitted flap you are making to lay flat.

 

---

 

 

Here you can see the purl turning column of the steek, indicated by the blue arrow.

Notice how there is one full column of stitches to the right of the arrow. This is the column of stitches between the purl turning ridge and the picked-up stitches for the facing.

---

 
Here's what it looks like all along the right-side edge of the right front of the sweater.

---

 

Here's what it looks like from the wrong side, in case that is helpful.

Look at all those spiky raw edge thingies. My cool knitted facing is going to cover those and rock the planet. Promise.

---

 

Step 3:

After working that first knitted (wrong side) row, turn and knit the next, RS, row.

 

---

 

Step 4: Work in Stockinette stitch (back and forth in rows), until the facing covers the raw edges and extends past them by at least one-eighth to one-quarter of an inch.

Step 5: Bind off LOOSELY (use a larger needle for this if you need to) on a RS row.

How many rows did I work? About ten; my facing measures seven-eighths of an inch total.

---

 

Step 6: Block your sweater when all the facings have been knitted.

Step 7: Fold the facing and the edges of the fronts to the wrong side, pinning in place as you go. Be careful to follow the purl turning ridge, ensuring that the purl ridge is the "hinge" exactly in the middle of the fold.

Step 8: Steam the facing and the edges down. Be careful not to scorch your knitting–be aware of what type of yarn you are using and what kind of heat it can tolerate before you do this step.

Step 9: Let the knitted fabric dry and cool completely after steaming. Seriously. LET IT COOL COMPLETELY, preferably without moving it.

---
Aaaaaannnnndddd….we'll stop there. (I know, I am such a tease.) I have to knit the facing for the left front, and figure out a graceful way to stitch these facings down. I'll report back about this next week.
Have any hints to add to this process? Do you have photos of knitted facings you have done? Leave a comment and share with us!
Till next Thursday then: Knit your hearts out.
– Sandi
Sandi Wiseheart is the founding editor of Knitting Daily. You can find her blogging here on Knitting Daily every Thursday. Want more? Visit Sandi's personal blog, wiseheart knits. Or, if you're on Twitter, follow her tweets: alpacasandi.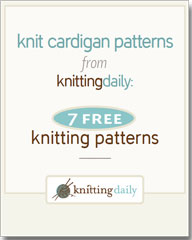 Every knitter has dreamed of the perfect cardigan pattern that he or she might knit some day. From a cozy cable knit to luminous lace, this free ebook will be your dream come true. This is a wonderful and varied collection of cardigans-which is one of the most important pieces in your wardrobe. You'll want to make every one of these knit cardigan patterns, so download your free eBook now and get started (and don't forget to tell a friend so they can enjoy their own copy!).