Spice Up Your Knitting
Alternating Twists from Cables & Arans
I am a stitch geek. I'm fascinated by the different ways that the humble knit stitch and the unassuming purl stitch get together and make a gadzillion different glorious combinations. My stitch dictionaries are stained with the love born of long and constant use; they tend to be found strewn around my living room, adorned with dozens of colorful stickies, rather than neatly lined up on my bookshelf.
A good stitch book can be the knitter's equivalent of a well-stocked spice cabinet: Take a familiar recipe, add a dash of lace, or a pinch of texture, and the result is something uniquely yours. Stitch dictionaries can be especially helpful if you are not quite ready to jump off into designing your own sweaters (yet!), but you want to add your own special touches to your knitting.
Which stitch to use where?
Scale: Just like spices, some stitch patterns are strong; a little goes a long way! Others are subtle; you can use them all over a large bag and not have it overwhelm the bag. (Think of the difference between a small, delicate floral print that works well on a blouse, versus a large, colorful floral print that might work better on your sofa.) However, if you are in love with a large-scale pattern, you can get a really interesting effect by using a single repeat in unexpected places. For example: Remember the cute pink Knitting Needle Knitting Bag from last week? What if you knitted that bag all in stockinette stitch, with just a single band of a cable stitch or lace pattern across the front? That way, you could make as many of the bags as you wanted to, and no two would be alike.
Gauge and sizing: Be aware that some stitch patterns will draw in your knitting a bit (cables, twisted stitches), while others will expand the fabric a little (lace and eyelets). A single repeat, used as a design element, will affect the finished size a little; an all-over extravaganza of pattern will affect the finished size a lot!
The best way to get to know a stitch, and the effect it will have on your knitting, is the same approach used by cooks when faced with a new spice: look at how the unfamiliar "ingredient" is used in other recipes, and then experiment for yourself.
Yes, I am talking about swatching. Yes, I know: Booorrrring.
But what if you thought about the swatches as squares for an afghan? Small pillows to spice up your bedroom? Pockets? Washcloths? You can even do what a friend of mine does with her swatches: She carefully blocks them and frames them and hangs them on her wall. How about that for knitterly art?
Do you have a creative way to put your swatches to use?
---

Sandi Wiseheart is the founding editor of Knitting Daily. She is now the author of the popular Knitting Daily blog: What's on Sandi's Needles.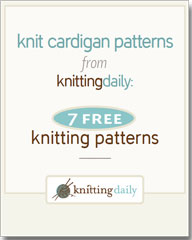 Every knitter has dreamed of the perfect cardigan pattern that he or she might knit some day. From a cozy cable knit to luminous lace, this free ebook will be your dream come true. This is a wonderful and varied collection of cardigans-which is one of the most important pieces in your wardrobe. You'll want to make every one of these knit cardigan patterns, so download your free eBook now and get started (and don't forget to tell a friend so they can enjoy their own copy!).