Knitting Short-Rows: Learn the Yarnover Method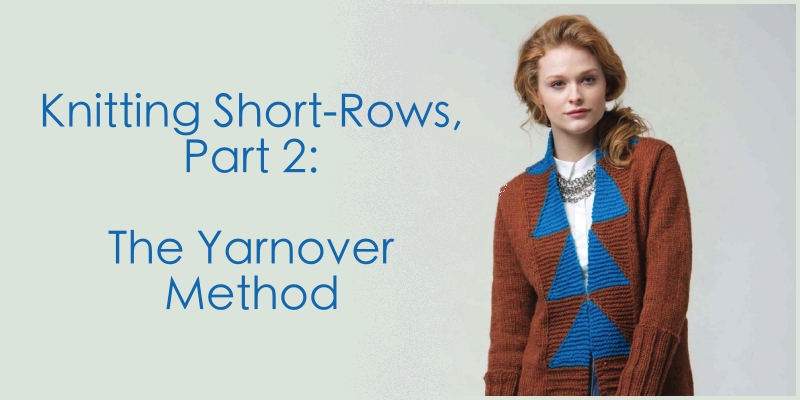 What are short-rows? They're exactly what they sound like: partial rows in the knitting that create curves, soft angles, and depth. Short-rows are an invaluable technique that allow the knitter to create modern, seamless knitwear that is both engaging to knit and flattering to wear. In this series, we'll show you how to work some of the most common methods of working short-rows. Last week, we covered the wrap and turn method. This week: the yarnover method.
The Yarnover Method
The yarnover, or "YO," method is easy to work back and forth in stockinette stitch, garter stitch, and ribbed patterns and yields tidy results. In the yarnover method, stitches are worked to the desired turning point, the work is turned, then a backward yarnover is created with the working yarn. On a subsequent row, the yarnover is worked together with its neighboring stitch, to disguise the turning point. When working the yarnover, you will either twist or untwist it to achieve the necessary placement of the extra loop in the fabric.
The Yarnover Method on a Knit Row

1. Knit to the turning point and turn the work (Figure 1).
2. Make a backward yarnover by bringing the yarn between the needles to the back (Figure 2); the resulting YO will be twisted.
3. If you're working in stockinette, bring the yarn over the right needle to the front again and purl (Figures 3 and 4). Hold the YO in place with your finger if necessary while purling the first stitch. If you're working in garter stitch, bring the yarn over the right needle to the front, then between the needles to the back again, and knit.
Are you ready to try yarnover short-rows? Check out the Meeting Triangles Sweater Coat (as seen in the header) or the Trichotomy Shawl (shown above), both found in Knitting Short-Rows.
---
This lesson has been excerpted from Knitting Short Rows, by Designer Jennifer Dassau. Jennifer is known for using engaging construction and modern shapes to create beautiful, wearable knitwear designs. Inspired by fashion, art, and writing, she blends her background in law and fashion production to make garments and accessories that are intriguing to knit and delightful to wear. Learn more about her aesthetic at The Knitting Vortex.
---
Get Knitting Short-Rows!