One Garment, Two Ways: Style Suggestions From Eunny Jang
Notes from Sandi: This week, Eunny Jang, editor of Interweave Knits, presents different ways to wear some of the designs from the Spring 2009 issue of Knits. Here's Eunny!
---

Being a maker of any kind is a powerful thing: it means that tools for self-expression are constantly at your fingertips. Choosing a yarn, a color, tweaking the little details to get a project just right—every knit is intimately connected with its knitter, refined and perfected for unique tastes and needs. In the first book of our Style series, Scarf Style, Pam Allen says,
"An idea…can come from anywhere, an irresistible yarn, a stitch pattern that appeals to you, a crocheted border you'd like to try, or perhaps a collection of beads that would make a wonderful fringe…Even if your knitting skills are limited to the knit stitch, you'll find several ways to make even the basic garter stitch scarf interesting and individual."
Learn more about the books in the Style series.
Pam goes on to look at designing your own scarf, and at 30 designer interpretations. The entire series is about how personal knitting can be. And that's what I love about knitting, what keeps me hooked and always ready to cast on: every project is new again, a chance to make something deeply individual and suited just-so to my closet, my house, my life. Every time I knit for someone else, I think about how to make it a seamless fit for their lifestyle. How often do you get that kind of satisfaction?
Every single project in Interweave Knits is meant to be made, worn, and enjoyed—we believe strongly in pieces that are both intriguing to knit and wearable or useful. At the same time, our magazine is meant to set a mood and inspire, which often means depicting only one or two of the many ways a piece could be worn and the many different lifestyles it could fit into. To that end, we've shot a handful of the projects from the Spring issue of Interweave Knits with different styling ideas—how would you make them your own?
Not a subscriber to Interweave Knits? Click here to subscribe.

Petal Halter


Olga Buraya-Kefelian has built a surprisingly versatile tank in an unusual, beautifully functional way: Six identical short-row curved pieces are stacked on top of each other and joined before adding wide straps, creating a slinky, segmented fabric that flows across the body's curves comfortably.
We showed it in the magazine as a tank, on its own—it's a great piece to wear bare in warm weather, casually with jeans or dressed up a little with a skirt. The tank is so structured, you may want to go for volume and/or softness for the bottom—casual jeans, light and airy fabrics.
Or try the top as a layer under a jacket. The unique construction is still visible, but the overall look is work-appropriate.
Finally, you could certainly wear the Halter as a vest. We're showing it here over a very soft, filmy shirt with a lot of volume—but it could work equally well over a plainer oxford or even a long-sleeve tee.
Saoirse Shawl
Norah Gaughan's Saoirse Shawl is surprisingly fun to knit—there's a lot of fabric that goes into those swinging, cascading ruffles. The yarn, Berroco Seduce, gives the piece heavy, fluid drape and movement. It's a very visually compelling piece—it moves every time the wearer does.
We showed it in the magazine as a hip-slung asymmetrical skirt over jeans. Worn the same way, it would make a great coverup at the beach, as well.
Of course, you could wear it as a little shawl or capelet, too. We've tied it asymmetrically here, so the longest portion of the fabric drapes over one shoulder, but a more classic front tie would also work. Over jeans and a tee, it's casual and fun; over dressier pieces, it's classic.
Up next: The Posy Slip, the Watered Quartz Tee, and the St. John's Wort Cardigan!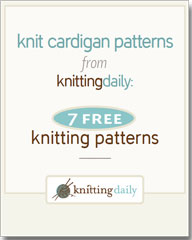 Every knitter has dreamed of the perfect cardigan pattern that he or she might knit some day. From a cozy cable knit to luminous lace, this free ebook will be your dream come true. This is a wonderful and varied collection of cardigans-which is one of the most important pieces in your wardrobe. You'll want to make every one of these knit cardigan patterns, so download your free eBook now and get started (and don't forget to tell a friend so they can enjoy their own copy!).