Lisa's List: 12 Knitting Patterns for Speckled Yarn
If you've spent any time on Ravelry in recent months, you've surely noticed a new trend: SPECKLED YARN. Here at the Interweave office, we jokingly call it SPLATTER yarn, which has a nice Nickelodeon ring to it. Like someone might pull a cord and dump a bucket of green slime on your head at any moment. And some of these yarns look like the bucket's been dumped on them!
What is speckle yarn? Well, it's a style of hand-dyed yarn whereby the color is applied in flecks and sprinkles, rather than in big paint-strokes or by dipping the yarn into dye. Some speckles are just really short color runs, while others are achieved by sprinkling dye crystals right onto the yarn and letting them set into little freckles of color. You can also flick a brush of dye onto yarn, or even stipple the yarn with a stiff brush. Each dyer has her own secrets, but it's no secret that these splattery, speckley yarns are all the rage at the moment. But what can you DO with them?
Variegated yarns have their limits in general, but the nice thing about speckled yarns is that they're less prone to pooling than hand-dyed yarns with long color runs. But the speckling and riotous color will obscure stitch patterns, so it's best to look for simple fabrics and statement pieces. A lot of the speckle yarns out there are sock yarns, but you don't have to knit socks with them! I've gathered several ideas from our archives; these patterns would look great in speckled sock yarns or other variegated fingering-weight yarns.
12 KNITTING PATTERNS FOR SPECKLED YARN
1. THE NIXIE SHAWL
Try this one in a solid and a speckle.
---
2. THE WOBBLE SCARF
Short-rows in hand-dyed yarns are always a hoot.
---
3. THE VERTEX CARDIGAN from Interweave Knits Spring 2013
A sweet and simple cardi with unusual lines shows off artful yarns.
---
4. PROFESSOR JACKSON'S SCARF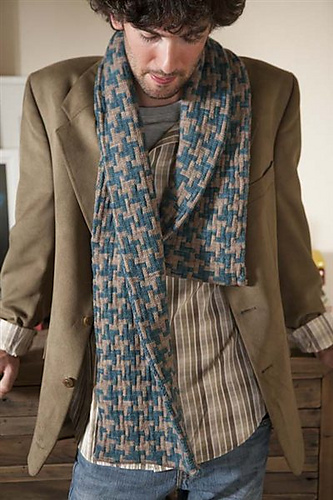 This scarf would be really cool in a solid and a speckle yarn that have high contrast with each other.
I imagine it would look like graffiti houndstooth!
---
5. THE RIBBON TOOL SHAWL
This shawl's already worked in a speckled yarn!
The simple garter body works with short color bursts quite nicely, while the edging keeps the knitting interesting.
---
6. MARGARET DASHWOOD SHAWL
A light-colored speckle yarn without too much color variation would sing in this long garter shawl with a deep lace edging.
---
7. AMALA TRIANGLE
A simple triangle shawl with biasing garter stitch makes an intriguing knit that would pair well with dramatic color changes.
---
8. TWIST PULLOVER
Can't you just see this clever Mobius top in a playful speckle yarn? Something light and
sprinkled looking! Paired with a crisp summer dress, it would make quite the party outfit.
---
9. BINGHAM HILL SCARF
Wavy stockinette, lace, and tassels! An engaging knit for fun yarns.
---
10. BINGHAM HILL COWL
Another Bingham Hill project (that's a place here in Colorado), this cowl was MADE for speckled yarns. So fun!
---
11. SOUTH PLATTE COWL
This long infinity scarf features a simple lace pattern and it already looks great in a variegated yarn…try it in a speckle!
---
12. SPAULDING SHAWL
Short-rows, texture, and a generous size make an epic shawl that just BEGS for loud color-effect yarns.
It's so big, you could use 2-3 different speckled colorways for a cool "fade" effect, like the fabulous Find Your Fade speckled shawl that's so popular on Ravelry.
---
Have you tried knitting with speckled yarn? I haven't knitted with it myself yet, but I have a few yummy skeins in my suitcase from TNNA just begging to be swatched.
Splatter yourself!
—Lisa
P.S. Love the yarn in the main image at top? That's from our friends at Ancient Arts!
---
Use Speckled Yarn on These Patterns!