Lining Your Knitted Bag, Part I
Knitting Needle Knitting Bag
The comments from Monday's post on knitting bags were a hoot! I feel so much better knowing that I am not alone in my knitting bag addiction. Bagaholics, bag ladies, and bag pigs (thank you, Merna S.!), unite! And what can we bag geeks say to Ms. Eliza, our friend who has never used a knitting bag and asks what she has been missing? Perhaps just this: Try a knitting bag. Any bag. You'll never look back.
If you'd like some suggestions as to what to use for a knitting bag: Read through the comments. The options range from cute to exotic, clever to practical: baby diaper totes (Katie F. and others), gift bags, drawstring bags, lined baskets, bowling bags (Elsa X.), children's suitcases (Donovan B.), plastic zippered bags that curtains and sheets are sold in, briefcases, bank deposit zippered bags, and metal lunchboxes (Laura L. and others), to name just a few favorites.
Thanks to you all, I now have an advanced case of Bag Lust. (I shall attempt to stay away from stores during this flare-up of my addiction. My husband thanks you for supporting me in this endeavor. However, I don't think he'd mind if I were to just get out some pink yarn and cast on for the Knitting Needle Knitting Bag. Surely not.)
One insightful comment came from Cagey44, who says she needs "Time-Out Bags for Bad Knitting to sit and contemplate its ways while I am working on its brethren." I agree: Sometimes a time-out works wonders for my troublesome knitting, too!
I leave you with a final hilarious tip from Brenda S.: "It wouldn't be a knitting bag without a corkscrew."
---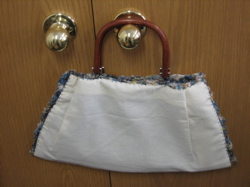 The INSIDE of the Ms. Poppins' Bag
Bag-Lining Strategies
Rosie W. said: "I'm sorely tempted to knit this bag (despite my UFO count being in double digits too) but I would want a lining, and I don't sew, or have a sewing machine, so that may keep me safe."
Rosie, I am about to take you right out of the Safe Zone, sorry about that. Like you, not every knitter has a sewing machine, and not everyone enjoys extended bouts of hand-sewing. What if I told you there were ways to line your knitted bags without a sewing machine, and without a lot of hand-stitching? (Of course, you can use a sewing machine if you like…)
Alternative ideas for attaching linings:
Buttons: If you have large enough "holes" in your knitted fabric, consider using buttons to attach a lining. Sew the buttons onto the WRONG side of the lining, the side that will face your knitted fabric. Put the lining inside the bag, and gently push the buttons through to the outside of the bag. Use little buttons or big ones; sew the buttons in a line along the top of the bag for a classic look…or put them randomly all over for a fun and funky touch.
Creative Stitchery: Use a matching (or contrasting!) yarn or embroidery floss and simple, slightly oversized stitches to sew through both layers of lining and knitting. Some easy stitches that will give great results are blanket stitch, whipstitch, running stitch, and backstitch. I used running stitches to attach a purchased linen napkin to the inside of the Ms. Poppins' Bag (see photo).

The OUTSIDE of Ms. Poppins' Bag
Snaps: Like a buttoned-in lining, a snap-in lining has the advantage of being removable and thus washable. However, the snaps won't show on the outside like buttons will.
Hot Glue Gunnery: I have never tried this, but a friend of mine swears by using a hot glue gun to attach linings to the inside of her bags. Anyone out there brave enough to try this?
Notice that I am not recommending Velcro, even though it seems like a logical choice. If you are making a knitted handbag that will not be carrying yarn, then Velcro might work beautifully. However, Velcro eats yarn, so don't use it in your knitted knitting bags!
---
Friday, we'll talk about creative, durable materials you can use for the lining fabric itself. (You might be surprised to know that you don't need to have a fabric store nearby for most of these ideas.)
---

Sandi Wiseheart is the editor of Knitting Daily.
What's on Sandi's needles? I'm finishing up a pair of Evelyn Clark's Waving Lace Socks for a friend whilst awaiting the fate of the yarn for Nicholas' cabled pullover.
---