Learn To Make A Sweater That Fits You Perfectly
At first when I thought about this post, I was going to write about my process for doing those little fit-and-flatter commentaries for the Galleries. I was going to talk about how I sit and read through every single pattern with the sample sweater in my lap, studying how the garment is constructed, where the increases and decreases are placed, what the pattern stitch multiples are…
But the REAL question on everyone's minds is, of course: How do YOU do figure out how to adjust a pattern for yourself at home, when there is no actual sample sweater to study and try on?
Believe it or not, you have all the tools you need, without that fabulous Actual Sweater From The Magazine. The information really is all there, you just have to know what to look for, and what to do with it once you've found it. (Kind of like life, yes?)
Where to look: It's all in the schematic, my friends. That little grey drawing with all those numbers on the second or third page? Yep. That's your gold mine of information about fit and flatter.

What to have nearby: A measuring tape. A notebook and pencil. A sweater, laid flat, that fits you the way you want the new sweater to fit you. (If you need two sweaters from your closet, one that fits you up top and one that fits you at the bottom, go for it!)

What to do: Measure each of the key dimensions below on the laid-flat-favorite-sweater and compare to the corresponding measurement on the schematic. Got it? Measure flat sweater in location A, compare to schematic measurement in location A. Where the measurements differ, you know you have to make an alteration.
10 Key Measurements That Determine Your Best Fit
When we look at a sweater on someone, our eyes go to these ten places, almost without us realizing it. If any one of these is too big/too small, the sweater will be ill-ftting.
1. Finished bust
2. Finished hip
3. Finished waist
4. Neckline width
5. Neckline depth
6. Neckline to shoulder "seam"
7. Shoulder "seam" to shoulder "seam" across the back
8. Underbust to waist height
9. Waist to hem height

10. Sleeve length
When I am writing the commentaries for the Galleries, I study each photo for the fit in the ten areas listed above, and suggest adjustments accordingly. I'm eyeballing it most of the time, but with the schematic and your favorite sweater's measurements, you'll have a much better chance of getting your sweaters to fit better. This is the way I approach my personal knitting, as well as my professional design work. And I have to tell you: Sure enough, if I end up with Gorilla Sleeves or a too-small fit across the shoulders, you can bet I forgot to check my measurements against the schematic.
In other words: The Schematic Rocks. Make friends with it, and it will give you many beautifully fitting sweaters in return.
Part Two of the Interweave Crochet Galleries
Now it's your turn. Today, we have four more galleries: two with Sandi Commentaries–Spanish Moss Coat and Ridge Swing Cardigan–and two without–Northern Dreams Pullover and Diamond Cables Pullover. Why no Sandi Commentaries on the last two? Because now I want YOU to be the commentators. Check out the photos, look at the fit of the sweaters in the ten areas listed above, and write in your own commentaries about the best fit and flatter for our models.
Enjoy!
–Sandi
P. S. If you didn't get a chance to see the first half of our Local Yarn Shop Interweave Crochet Galleries, here they are!
---
All these pretty garments are from the new Fall 2008 issue of Interweave Crochet–look for it at your local yarn shop, or buy a copy online from us.
(Try your local yarn shop first, though. That way, if you fall in love with one of the patterns in the magazine, you can shop for yarns right away…oh, sorry. Am I enabling you in your yarn habit? Um, yes. Guilty as charged. I love my job.
Purchase Interweave Crochet Fall 2008


Sandi Wiseheart is the founding editor of Knitting Daily. She is now the author of the popular Knitting Daily blog: What's on Sandi's Needles.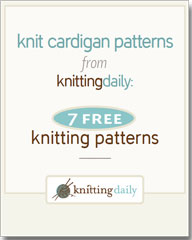 Every knitter has dreamed of the perfect cardigan pattern that he or she might knit some day. From a cozy cable knit to luminous lace, this free ebook will be your dream come true. This is a wonderful and varied collection of cardigans-which is one of the most important pieces in your wardrobe. You'll want to make every one of these knit cardigan patterns, so download your free eBook now and get started (and don't forget to tell a friend so they can enjoy their own copy!).