Knitting On, Through All Things
As I write this, a 6.1 aftershock has just hit Haiti. In light of the suffering of Haiti's people, to some it may seem trite to be discussing knitting, especially knitting we are doing for ourselves and not for a charity of one flavour or another. I stand with Elizabeth Zimmermann on this one: "Knit on, with confidence and hope, through all crises." Knitters are already by nature a generous lot, as the current total from Knitters Without Borders demonstrates. (Another group of knitters, who wish to remain anonymous, have raised nearly $32,000 in the one week since the first quake. Wow!)
Generosity like that requires strength–strength of mind, strength of heart, strength of body. Perhaps we, as knitters, have the strength to give because knitting itself gives our hearts respite, our minds quiet time to reflect, our bodies time to rest. Knitting allows us to collect ourselves, to build strength, so that we in turn have something to give back when and where it is needed.
We are stronger, because we knit. Let us knit on, therefore…
I present to you: The Farmer's Market Cardi–A finished sweater body!

Ta-Da! It's a cardigan body, complete with steek panel right up the center front, front darts, back darts, armholes and all the standard accessories.
Well, except the sleeves, of course. Sleeves would be nice. And pockets. And a nice cabled shawl collar. Hm…OK, so perhaps I am not as close to being done with the Farmer's Market Cardi as I would like, but boy howdy, I feel a sense of accomplishment here. Woot!
Cap'n Frog is in the photo because his services were alllllmost needed, and he was on standby mode for a while there until I figured out how to solve the problem without frogging a zillion stitches. I noticed the problem when I counted stitches in the final rows before finishing the fronts and found, to my dismay, that I had several stitches too many at the shoulders.
Oops. I was completely done with all the planned decreases at neck and armpit and bust and everywhere, and I had too many stitches. If I didn't correct this somehow, my front shoulders would be too wide and would not match the back shoulders at the seams.
Where did the extra stitches come from? Remember when I cast on, I added a few extra stitches to the fronts to gracefully cover a rather rounded belly? Ohhh, yes. Those stitches. Well. Ahem. Errr…I apparently forgot to figure those into the math in the bust area, and thus I never decreased the extra away at the top of the sweater, where the extra room was not required. As the shock set in, I realized that to fix this error "according to the books" I would have to rip back the entire cardigan down to the WAIST.
I had to go and take a couple of good deep steadying breaths after that realization sunk in. Cap'n Frog joined me about then, reminding me of the hours of work all those potentially ripped-back rows/rounds represented. That's when I put my foot down, and Just Said No To The Frog.
After a bit of math, and a bit of careful re-reading of the instructions for the zillionth time, I decided to remove the extra stitches via a combination of one extra neck decrease and some evenly spaced decreases right at the shoulder seam, where they would appear to be little graceful puckers–or so I hoped.
An hour later, voila! Extra neck decrease, check. Evenly spaced decreases at the shoulder seam, check. Correct number of stitches achieved, the sweater fronts look great, and The Frog was banished back to his lilypad.
Knitting lessons learned
First, do a "reality check" of stitch counts at regular intervals along the way. This, along with regular measuring and comparison to the printed pattern specs, will prevent nasty shocks later. Second, if massive ripping back seems required, stop and put the project down for a bit. If you give the problems some time and thought, you may be able to come up with a creative fix that works into the pattern and prevents a session with Cap'n Frog. That alone is worth a bit of patience and a few deep cleansing breaths!
As a final note, I'd like to point out that my fix works because it's a cardigan, with an opening down the front–thus, a few extra stitches–and the resulting extra ease–over the bust area aren't as much of a concern as they would be in a pullover. (Not to mention that the addition of the shawl collar will cover a multitude of decrease sins. Yeah, baby!) It's important to read the instructions thoroughly to make sure that any fix you come up with fits with the overall design and style of your sweater.
Now that the body's done…what next? You know what this means, don't you? Next week is Cut The Steek Week! See the pretty steek panel down the front (click the photo above to embiggen)? Want to see me cut my knitting? Want to see what REALLY happens to all those scissor-snipped stitches? Join me next week!
Till then, I hope you find joy (and strength) on the needles. Knit on, my friends.
– Sandi
Have a question or some feedback? Leave a comment and let me know!
Sandi Wiseheart is the founding editor of Knitting Daily. You can find her blogging here on Knitting Daily every Thursday. Want more? Visit Sandi's personal blog, wiseheart knits.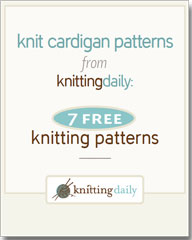 Every knitter has dreamed of the perfect cardigan pattern that he or she might knit some day. From a cozy cable knit to luminous lace, this free ebook will be your dream come true. This is a wonderful and varied collection of cardigans-which is one of the most important pieces in your wardrobe. You'll want to make every one of these knit cardigan patterns, so download your free eBook now and get started (and don't forget to tell a friend so they can enjoy their own copy!).