Keep Your Knitting Simple (plus a Free Pattern)
Sometimes we forget: Knitting is supposed to be fun. It's what we choose to do in our free time, it's what we do for ourselves–to calm ourselves, to enjoy the rhythm of
stitches, to revel in the feel of yarn slipping through our fingers.
I like to remember this, especially when I'm frustrated and ready to throw a project, needles and all, all the way across the room! (Yes, of course this happens to me too!)
Ann Budd, the editor of Interweave's new book Simple Style, was my officemate for a while, and she used to say to me, "Remember it's only knitting–no one dies, no one's life is at stake." And in this new book devoted to keeping our knitting simple, Ann offers the ABC's of Simple Knitting–I've chosen just a couple of the "alphabet advice" tips to share with you here:
A is for: "Ask for help if you run into problems. Knitting shops are full of kind, helpful people who have a vested interest in your success."
L is for: "Laugh at your mistakes and learn from them."
Q is for: "Quit when you're tired or frustrated with a pattern. Chances are that it won't seem so daunting when you're fresh and rested."
What do you do to help keep your knitting fresh and fun? Share your thoughts with us.
And most importantly: Enjoy your knitting!
— Sandi
---
Free Pattern: Twisted-V Pullover
What are your favorite sweaters to wear? Day after day, chances are that you reach for the classic styles, the pullovers and cardigans with simple styling and one or two special details: a great stitch pattern, a pretty yarn. I like those special details, because they set a handknit sweater apart from the ones you buy at the store–can't you always tell when a sweater has been knit by hand?
The Twisted-V Pullover by Alice Halbeisen is one of these soon-to-be-favorites. The twisted ribbing flatters your curves, and the pretty triangular shapes at cuff and bodice are like nothing you'd find in a store. The best of handknit style, straight from the pages of our new book Simple Style–and it's our gift to you!
Download the Twisted-V Pullover for free.
---
Check Out Knitting Daily TV for more free patterns, and great knitting advice
The Twisted-V Pullover is featured on Episode 204 of Knitting Daily TV: Series 200, so while you're downloading the pattern, take a peek at what else is in that episode: advice on changing needle size to get gauge; an interview with favorite designer Norah Gaughan, and more!
Find out where Knitting Daily TV is showing in your area.
Purchase Knitting Daily TV: Series 200 on DVD so you have all the episodes to watch any time you wish.

Sandi Wiseheart is the founding editor of Knitting Daily. She is now the author of the popular Knitting Daily blog: What's on Sandi's Needles.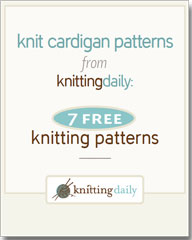 Every knitter has dreamed of the perfect cardigan pattern that he or she might knit some day. From a cozy cable knit to luminous lace, this free ebook will be your dream come true. This is a wonderful and varied collection of cardigans-which is one of the most important pieces in your wardrobe. You'll want to make every one of these knit cardigan patterns, so download your free eBook now and get started (and don't forget to tell a friend so they can enjoy their own copy!).