Inca Knits: Translating Incan Imagery into Beautiful Knits
With her designs inspired by Africa (Knitting Out of Africa) and Japan (Japanese Inspired Knits), Marianne Isager has taken us on quite a trip. Now she gives us Inca Knits, a book of beautiful designs that were conceived while Marianne travelled through Central America.
According to Marianne, "Latin America is a paradise of patterns and colors. Woven ponchos worn as outer garments, lovely old pottery, colors in the landscape, vegetables in the marketplaces, boats on the beach–all of these images from the Incan empire contributed to the garments in this book."
"Circles" of Beauty
I'm particularly taken with Circles, a reversible, double-knit sweater jacket. It's really beautiful and the technique is intriguing. Here's Marianne's description of this method:
"Double knitting produces two layers of fabric with a single pair of needles. The stitches are always worked in pairs, forming two separate stockinette-stitch layers that are
worked with separate balls of yarn. One stitch of the pair is worked on the right side; the other stitch is worked on the wrong side. The right side of each layer faces outward and the wrong sides face together and therefore do not show. Reversible patterns form when the yarns for the two layers are interchanged."
There's a wonderful tutorial on double knitting in Inca Knits, which includes special increases, decreases, and bind offs used especially for double knitting.
Marianne says the Circle sweater was inspired by the circles design on the side of an ancient Peruvian pot. I'd love to see that pot, because this sweater is simply beautiful. The colorway is in rich earth tones, but I think this sweater would be equally stunning in cool water tones as well; I can imagine it in soothing blues and greens.
I love jacket-type sweaters, too, and because of the two layers this sweater could be worn as a winter coat in some warmer climates.
Bolivia: A Free Incan-Inspired Pattern from Marianne
While in Bolivia, Marianne experienced a vibrant marketplace in the capital, La Paz. This sweater was inspired by the "explosions of color" she saw there, especially in a beautiful woven belt. The labyrinth motif is interesting without being overwhelming, and the color choices are endless. Click here to download Bolivia.
This pattern is classified as an intermediate pattern because it requires steeking and stranded two-color knitting. Marianne provides a section on stranded knitting in Inca Knits, which will help you perfect your technique.
I find my biggest challenge is keeping my tension even so that the strand that's carried across the back of the knitting doesn't pull too tight and make the work pucker. That's something that takes practice, I've found; I have a tendency to zone out when I'm knitting and I have to make sure to stay focused on what I'm doing so I don't pull too tight. Like anything in knitting, stranded colorwork is an art and a skill, and practice makes perfect!
With all of the color options, this sweater will be as much fun to plan as it is to knit!
Cheers,
Kathleen
P.S. Check out our new Tuned in to Knitting Daily TV blog post. You'll be fascinated by the blanket project that's demonstrated this week.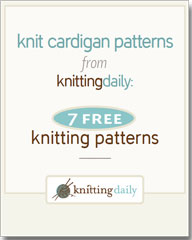 Every knitter has dreamed of the perfect cardigan pattern that he or she might knit some day. From a cozy cable knit to luminous lace, this free ebook will be your dream come true. This is a wonderful and varied collection of cardigans-which is one of the most important pieces in your wardrobe. You'll want to make every one of these knit cardigan patterns, so download your free eBook now and get started (and don't forget to tell a friend so they can enjoy their own copy!).