Gallery: The Bonbon Pullover
Here's the next in our popular series of sweater galleries from the Winter 2007 issue of Interweave Knits. This time, Katie Himmelberg, assistant editor of Interweave Knits, gives suggestions for color choices and customizations for the Bonbon Pullover.
View the Bonbon Pullover Gallery
The mix of color work techniques on this sweater by Mari Lynn Patrick shakes up our notion of what color work "should" look like—it's a refreshing whimsical look that would be fantastic in a variety of color combinations. A good way to think about changing the palette is to keep in mind the contrast in the original choices. You'll want to select colors in the same values; here, we have the body color, three colors on the lighter side, and three on the darker. Keep in mind that you might want the "Little Dots" pattern at the hips, sleeves, and neck to contrast with the body color so that they'll show up well. Start with a color that inspires you, and work from there-don't forget to swatch to find the best combination! You'll need the same amount of yarn for all the contrast colors, so you don't have to decide right away which is which in accordance with the pattern.
The longer body and color work band at the hips can pose a challenge for some women, but with a minor adjustment, this classic color work yoke sweater can be great on a pear shaped body. You could skip the color work on the hips; the color work yoke would then stand alone, adding emphasis to the shoulders and balancing out larger hips. If necessary, you can also add some hip shaping in this now plain area (making the sweater greater in circumference at the hem than the bust) by casting on more stitches and decreasing them out towards the waist (calculate the number of stitches based on your measurement and gauge).
My styling default is always jeans, because what sweater doesn't look good with denim? It can really make your handiwork the focus of your outfit. So I'll mix it up and say I think this one would look really cute with a long straight skirt, or maybe a below-the knee a-line or flared skirt (again good for the more pear-like among us) with some colorful tights and wacky boots. This sweater's playful look would also be cute on a *** or teenage girl; let her pick out her own colors and it could be a fun project for the two of you!
---
…and on Sandi!
You Have Questions, Katie and Sandi Have Answers!
Here are our responses to some of the great questions that came in about the galleries for the Henley Perfected and the Citrus Yoke Pullover.
View the Henley Perfected Gallery
Trudy wrote: I noticed that the Citrus doesn't wrinkle on the girl with no ease but does wrinkle under the chin on the women with more ease. Wonder if it is because of the no ease or because of broader or narrower shoulders?
From Katie: Trudy, I think it's a little of both. I would recommend choosing the size closest to your actual bust measurement, and remember that you can try the sweater on as you knit since it is a top-down construction. Also, keep in mind that the women shown here are all varying heights, which is why I mentioned shortening the neck in the last post. Lastly, you can add short-rows to raise the back neck and eliminate the fold at the front neck. I decided not to alter my pattern in that way since it was a Simple Knits feature and I wanted to keep it easy! Thanks to reader Jamie who pointed out this technique.
Margaret H asks: Are the women wearing the Henley Perfected all wearing it over regular clothing? Are the bust measurements taken with the clothing or without?
Katie answers: The bust measurements were taken over undergarments and clothing; when measuring yourself, wear the undergarments and any clothing you would be wearing underneath the sweater you plan to make. I'm usually most comfortable with a tee or camisole under my winter sweaters, so I always include that.
Anonymous asks: What is negative ease?
Sandi says: Ease is a measure of how much extra "room" there is between you and your sweater. Positive ease means there is extra room; negative ease means that the sweater measurement is equal to or less than your actual measurements—and is thus more form-fitting, body-skimming, and curve-hugging than a loose-fitting, positive-ease garment would be.
Several of you wrote in asking about the gallery photos and models themselves: How do you choose the models and the clothes they wear for the galleries?
Sandi replies: Katie and I choose the models by wandering around our Colorado offices and asking folks, "Hey, can we put your photo and your bust measurement up on Knitting Daily?" Literally. (You can imagine the responses the first few times we did this.) Once we have several willing victims, er, I mean, volunteers, we set up times where folks are able to slip away from their desks for a bit for the photoshoot. Everyone knows when Photo Day is, and they all know to wear basic clothing that will work with a variety of sweaters. We have a list of the measurements of the sample sweaters on hand, and we try to get each woman to try on everything that will reasonably fit them. We know the sweaters don't look perfect on every model who wears them; the point is to show what the garment looks like with varying amounts of ease on women of various shapes, so you can make more informed decisions in your own knitting adventures.
CFBandit and others ask: I'd like to see Sandi in more of the sweaters… I'm shaped more like her than the other gals, so I'd like to see how the garments look on her.
Sandi says: My curves are a bit too bodacious to fit into some of the sample sweaters, unfortunately. I try on all the sweaters I can comfortably fit into, even those that are tighter than I would normally choose to wear, in order to demonstrate how a sweater might fit a larger gal, and where adjustments for "dangerous curves" might need to be made.
---
More galleries to come in the weeks ahead!
Check back as the women of Interweave try on the Ivy League Vest, the Rosemary Swing Jacket, the Collette Pullover, and more!
---

Sandi Wiseheart is the founding editor of Knitting Daily. She is now the author of the popular Knitting Daily blog: What's on Sandi's Needles.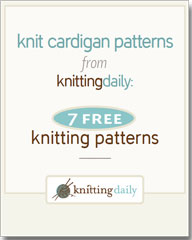 Every knitter has dreamed of the perfect cardigan pattern that he or she might knit some day. From a cozy cable knit to luminous lace, this free ebook will be your dream come true. This is a wonderful and varied collection of cardigans-which is one of the most important pieces in your wardrobe. You'll want to make every one of these knit cardigan patterns, so download your free eBook now and get started (and don't forget to tell a friend so they can enjoy their own copy!).