Galleries: Henley Perfected & Citrus Yoke Pullover (Plus Notes on Sandi's Gathered Pullover)
Katie wearing the Henley Perfected
I asked Katie Himmelberg, style editor of Knitscene and assistant editor of Interweave Knits, to provide some expert commentary for us for each of the sweaters we have chosen for the Winter 2007 Interweave Sweater Gals Gallery. Here's what Katie has to say about our first two sweaters.
Henley Perfected
View the Henley Perfected Gallery!
What better way to kick off the Winter 2007 Gallery than with the Henley Perfected—the most popular pattern as voted by you, the Knitting Daily readers. And for good reason! Connie Chang Chinchio refined the popular wardrobe staple and created a flattering silhouette that works for any body type.
I know some readers were concerned about the empire line not hitting them in the right spot; but do not fret, with a little planning, this is an easy fix! Get out your measuring tape and measure yourself from shoulder to under your bust (or wherever you'd like the division to hit). Now, check the schematic on page 74. The total length of the hem to armhole is given; to calculate where the division is, we need to go back to page 70 and subtract the length given to work in Stockinette from the turning ridge from the total length. Add your resulting number to the armhole length, and you'll get the measurement from the shoulder to the empire line! Then adjust the starting point of the lace based on your measurement.
Styling Ideas
You can see that the ladies wearing the Henley with negative ease are experiencing some gapping at the placket. In my opinion, this is due to two things: the drape/hand of the yarn used (alpaca/silk blend) and the notion of putting something large into something small. If you prefer a fitted look, but want to wear the Henley buttoned; try a more substantial button band. You could try a using a rib pattern or a crocheted button band for a very different look. I would probably wear my Henley with most of the buttons undone, with a cute tee peeking out at the top. It would also look great with a tissue-weight Henley underneath with those buttons peeking out! And if you find that the sweater is too warm, try a camisole as shown in the magazine. Even though this Henley is worked in a fine fiber, the overall style is still fairly casual, and looks great with jeans, cords, or a cute casual skirt. Or play up the outdoorsy aspect and add a knit cap and hiking boots!
---
Debbie wearing the Citrus Yoke Pullover
Citrus Yoke Pullover: A Lacy Contrast
I wanted to talk about the Citrus Yoke (not just because it is my own pattern) as it has some similar design elements to the Henley Perfected. Each project features a lacy pattern on the top portion of the sleeves and body that could be a tricky spot for some knitters. For the Citrus Yoke, you can measure yourself in the same way, and decide if you would like the lace pattern to end earlier or to continue on the body and sleeves so that it hits you at the most flattering point. Another adjustment that can be made is the length of the collar; work fewer rounds before increasing for the yoke for a shorter collar. The simplicity of the lace design makes this pattern an easy one to adjust! You can also add waist shaping to the body, or work decreases on the sleeves for a tapered fit. The possibilities are nearly endless when knitting your own custom garment!
---
Thanks to Katie for her great suggestions on these two sweaters! And there are more galleries, with more great customization and style tips from Katie, coming up in the days ahead!
---
Progress Notes From Sandi: My Version of The Gathered Pullover

The Gathered Pullover from Winter 2007
I fell in love with this sweater the moment I saw it in Winter Knits. Like so many of you, however, I was a bit concerned about the placement of the central cable motif: right dead-center over The Ladies. I was thus very interested to see the sample garment and to be able to show you a gallery of folks wearing it. Unfortunately, however, the sample sweater was not available. So I realized there was only one thing for me to do: I would knit a sample Gathered Pullover myself, in a Sandi size, and then do a gallery for you using my own sweater on several different folks!
Knitting a sample sweater of course means that I have to knit it exactly as written, so that when I show it to you on different folks, you will know what to compare it to. Knitting it as written also means no customizations, which means I run the risk of it not looking great on me. But I think it's worth the risk, to have a gallery of that sweater for you all.
Besides, once the gallery is done, if the sweater needs customizations in order to look fab on me, I can always call on Cap'n Frog, and gather advice from all of you, and then we can all have a little Knitting Daily sweater do-over party. Sound good? Hope so, because I'm already 4" into it…stay tuned for my swatching adventure and how I picked which size to make.
---

Sandi Wiseheart is the founding editor of Knitting Daily. She is now the author of the popular Knitting Daily blog: What's on Sandi's Needles.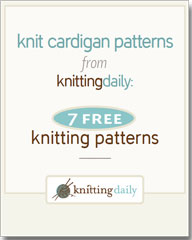 Every knitter has dreamed of the perfect cardigan pattern that he or she might knit some day. From a cozy cable knit to luminous lace, this free ebook will be your dream come true. This is a wonderful and varied collection of cardigans-which is one of the most important pieces in your wardrobe. You'll want to make every one of these knit cardigan patterns, so download your free eBook now and get started (and don't forget to tell a friend so they can enjoy their own copy!).