The Faroe Invasion: Faroese Yarns Debut in North America
It's late June. Forecasts predict sweltering 90-to 100-degree temperatures across the southern half of the United States. Óli Kristian á Torkilsheyggi, the founder of Navia, a yarn and knitwear company in the Faroe Islands, answers a Skype call from his office, wearing a heavy pullover, which shows why many of the world's famous knitting traditions evolved above the 60th parallel.
The sweater he's wearing was designed by Navia for the upcoming G! music festival, a three-day outdoor party on the island of Eysturoy, where attendees wear knitted sweaters like American concertgoers sport T-shirts. Made from 100% "brushed" Faroese wool (the brushing imparts additional softness), the natural-colored sweater features a graphic yoke and will sell alongside other festival merchandise such as T-shirts and hats. "You go there," he said of the festival, "and everyone's wearing jumpers."
The Faroe Islands are home to a vibrant knitting culture, one that's about to find its way into more yarn shops and knitting bags on the west side of the Atlantic. Earlier in June, Torkilsheyggi and his wife made their first trip to the United States, joining their North American distributor, Kelbourne Woolens, in introducing Navia's yarns at The National Needlearts Association (TNNA) summer show in Cleveland, Ohio. When the yarn debuts in yarn shops this fall, it will be the first time Faroese yarns will be widely available to American knitters.
The Torkilsheyggis are hoping to grow their business and make better use of the country's wool, and Kelbourne Woolens wants to expose more knitters to a vast and rich knitting tradition through a range of unique yarns and designs. "I'm from New England and it's cold there, and I've always seen knitting very practically and functionally," said Kelbourne's Kate Gagnon Osborn about the company's decision to introduce Navia to the American market. "I think the whole story of Navia and their designs takes that idea—they wear sweaters to stay warm—and it is both modern and really traditional, which is a niche we've tried to occupy at Kelbourne Woolens. It's good yarn that serves a purpose and tells a story."
Where the Heck Are the Faroe Islands?
The story of Faroese wool is a long one, dating back more than one thousand years, and involves Irish monks, Vikings, textile anthropology, and lots and lots of sheep. A bit of geography and history to start: The Faroe Islands are a tiny archipelago of 18 islands located in the North Atlantic about halfway between Iceland and Norway. Faroe is a self-governing region that falls under the jurisdiction of the Kingdom of Denmark, although it has its own parliament and flag. Archaeological evidence from the Faroes shows that people inhabited the islands as early as 300 CE, but their identity remains a mystery. Later, it appears that Irish monks settled the islands but were eventually driven out by Vikings.
By the time the Vikings arrived with their own sheep, the islands already had healthy herds. The ovine population must have been impressive because the Vikings are said to have named their new home "sheep islands" in Old Norse. A ram figures centrally on the Faroese coat of arms, showing how important the meat, milk, skin, and wool from sheep have been to the inhabitants of this cold, windswept place.
These days, Faroese sheep outnumber people at a ratio of about eight sheep to every five humans, and many families raise small herds. Torkilsheyggi, a sixth-generation Faroese farmer, keeps about 200 animals. The sheep are a hardy bunch with small bones and long outercoats over soft, downy undercoats— and they look a bit like wool batts on legs. The fiber itself is like the environment in which it's grown; Torkilsheyggi describes the rough-and-ready wool from his home country as, "beautiful . . . It has a toughness to it. It's very strong with a lot of lanolin in it. If it starts raining, the rain [doesn't soak into] the jumper. It's so comfortable to wear outside. It's like a jacket and a jumper, you have everything in one."
The Origins of Navia
Torkilsheyggi wanted to find a way to use this special wool from his homeland, as generations of his family had done. His grandfather once owned a spinning mill on the island, but it had long been shuttered when Torkilsheyggi thought there might be a need for additional Faroese yarn in the Faroes. Armed with $300 and a business plan he wrote in university, Torkilsheyggi rented a building and began his yarn business. "I was an intern at my own company," he says. "This was a student project that got too serious."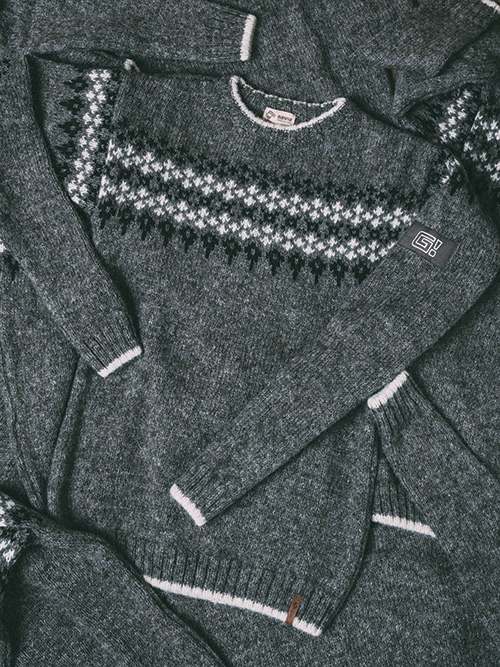 Navia yarns and knits are produced with partners in Turkey using various combinations of Faroese wool, Shetland wool, Australian lambswool, and other fibers including cotton, alpaca, and silk. For pattern support, Torkilsheyggi hires Faroese designers. The Faroese knitting tradition is related to those from other northern lands that share fishing waters, such as Iceland, the Shetland Islands, Denmark, and Norway. Still, Faroese knitting has innovations all its own. Faroese shawls are distinctive, featuring a center back gusset and shoulder darts (for easy wearing), and they are shaped less like triangles and more like a pair of wings. There is a graphic, no-nonsense quality to Faroese colorwork, or, as Torkilsheyggi put it, "We don't tend to have a lot of patterns. The style is a bit more simple, not too much or little." Motifs tend to be limited to one or two that are repeated, and colors are restrained to two or three and skew toward natural hues.
Remarkably, the Faroese have a "knitting Bible," which sits on shelves in most homes. Føroysk Bindingarmynstur (affiliate link), published in 1932 by tailor Hans Marius Debes, was compiled at the behest of Denmark's Queen Alexandrine, who, charmed by an exhibit of Faroese sweaters in Copenhagen in 1921, was concerned that this largely oral tradition might disappear. Debes traveled throughout the islands, collecting more than 100 motifs that continue to inform what people there knit today. "We still use that book for inspiration," Torkilsheyggi said. "Those are the Faroese patterns. We use those patterns in our concepts."
Ready-to-Wear Faroese Fashion
Guðrun Rógvadóttir, part of the team that makes up the eponymous Faroese knitwear brand Guðrun & Guðrun, grew up on the Faroes. She loves the flat, matte appearance of the fiber, the sheepy smell, and the feel of the wool next to her body. "I feel like somebody is hugging me. When you warm it up, it doesn't itch that much anymore. There is nothing like Faroese wool when you are walking in the mountains or outside on a boat."
Like wool in the United States and United Kingdom, Faroese wool fell on hard times when global wool prices plummeted, and people began favoring synthetic fabrics such as Gore-Tex and polyester fleece. Heartbroken by the bonfires farmers ignited throughout the Faroes to burn their unsalable wool, Rógvadóttir and designer Guðrun Ludvig searched for a fashionable use for by-products of the local sheep industry. They initially designed lambskin coats, but they shifted their focus to knitwear after Japanese buyers took an avid interest in Ludvig's knits at a trade show. Today, Guðrun & Guðrun uses wool and knitters from the islands along with natural fibers sourced from other regions. It also works with a women's knitting cooperative in Peru and hires Jordanian women, who have few employment opportunities outside the home, to knit.
The iconic Guðrun & Guðrun "Star Sweater," also referred to as "Sarah Lund's jumper," arguably put Faroese knitting and style in the public's eye on a global scale. This black-and-white traditional stranded pullover became synonymous with the character of the female detective in the Danish television series The Killing, which ran from 2007 to 2012 and gained a huge following in the United Kingdom and across Europe and later inspired a U.S. version.
"It was a complete coincidence," Rógvadóttir explained. "We were at a fair in Copenhagen and a stylist came by to borrow some sweaters to make the TV show, and suddenly when the series aired, she was wearing the sweater all the time and talk began about the sweater. It created a lot of brand awareness for us. That summer after it was aired in U.K., we were tourist guides for all the press that came from it and telling them about the Faroe Islands."
The show sold a lot of sweaters and spawned countless knockoffs. Rógvadóttir says she can immediately spot a star sweater that wasn't knitted with Faroese wool. "There is a certain white, a specific shade that is the correct shade. It's not too yellow or beige or too white, and it's very matte. Alpaca is shiny. Faroese wool is matte."
The Future of Faroese Wool and Knitting
Navia is currently collaborating with the Faroese government on making better use of that wool. The government is purchasing the country's wool clip, which Navia sorts into two grades. Navia purchases the first-class wool, and the second-class fiber is used for housing insulation. "We have a lot of wool," Torkilsheyggi observed. "That's why we are pushing the sales part of Navia, and entering the U.S. market is part of that growth. In Faroe Islands, people can't buy more yarn. They have been so supportive, but we are only 50,000 people. We need to look outside the Faroe Islands and get into other stores in Europe and the States and reach a broader audience."
Navia produces eight lines, including Tradition, a 100% Faroese wool line; a range of blended Faroese, Shetland, and Australian lambswools of various weights; a sock yarn; cottonwool and silk-wool blends; and a 100% alpaca yarn. "Even gas stations here sell yarn," he explained of the company's need to expand overseas. "If there's a store, they have bread, butter, and Navia yarn."
Knitters can expect to see tidy balls of Navia and pattern books on North American LYS shelves this fall. Discover all the Navia yarn lines at Kelbourne Woolens.
---
LESLIE PETROVSKI is a freelance writer who lives in Denver with her husband and cat. She writes regularly about how knitting connects people and places. Find her on Ravelry as nakeidknits.
All photos by Beinta á Torkilsheyggi.
This story was originally published in the knit.wear Fall/Winter 2018 edition.
---
Check out all of the Interweave knitting titles to find more woolly stories that you will love.