Eunny's Sweater Workshop: Petal Halter
Note from Sandi: Today we bring you another new feature: the Sweater Workshop, where we take a great sweater and examine its construction in greater detail. Again, we welcome Eunny Jang, editor of Interweave Knits magazine, as our guide:
Olga Buraya-Kefelian draws inspiration from many places. In particular, the Petal Halter, featured in our Spring Interweave Knits 2009 issue, was inspired by a quilted couture piece with a bandeau-like construction. But how do you go about translating such a sculptural piece into slinky, drapey knitted fabric?


The first order of business was finding the right yarn: the right yarn would have structure and a firm hand, but would be fluid enough to drape over the body flatteringly. Olga swatched a bamboo (too limp!) and a yarn wrapped with a viscose thread (too textured) before settling on a cotton and linen blend with a subtle metallic thread that had just enough body to make the stitches pop and show off the directional nature of the knitting, but enough drape to flow over the body.
Next came the business of plotting and fitting the pieces together. Originally, Olga planned to have the pieces diminish in size toward the shoulders, creating an A-line shape—but realized that the natural curves of a body would create a fitted and flared effect even from a straight tube. The ingenious final construction is made up of six identical pieces shaped like long, wide bows.
Each petal is knitted sideways, from the center out, curved slightly with short rows and worked with a garter stitch edging at the right side (Figure 1). After knitting half of the petal, the work is picked back up from the center and worked towards the other side in mirror image. Stitches are left live at the ends of each petal for later joining.  
Two petals at a time are joined together to make shallow tubes, sewing live stitches down just inside the garter stitch edging of the adjoining piece to create an overlapped effect (Figure 2).
Tubes are then stacked and sewn together, sewing raw selvedges down just inside the garter stitch edgings of adjoining pieces (Figure 3).
Finally, stitches are picked up and knitted to make narrow, close-set straps. And there you have it: knitting innovation.
Make it your own: The Petal Halter is surprisingly flattering to a variety of body types; the segmented construction fits naturally and flatteringly whether you want to hide or play up your personal features. For more coverage on top, consider knitting the top tier of petals for a larger size and easing the extra fullness in as you sew. Pick up more stitches for the straps for a more tank-like silhouette (Figure 4). Or to go really bare, eliminate the straps altogether and simply attach narrow loops of I-cord to the center peaks for a truly halter-like look (Figure 5).   
Our issue of Spring Interweave Knits has more great projects to carry you through until the summer one is available. If you haven't gotten the issue yet, pick it up at your local yarn store, or order here.
— Eunny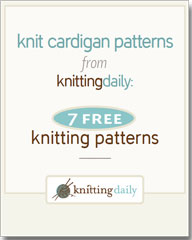 Every knitter has dreamed of the perfect cardigan pattern that he or she might knit some day. From a cozy cable knit to luminous lace, this free ebook will be your dream come true. This is a wonderful and varied collection of cardigans-which is one of the most important pieces in your wardrobe. You'll want to make every one of these knit cardigan patterns, so download your free eBook now and get started (and don't forget to tell a friend so they can enjoy their own copy!).