Episode 1411 – New Spin
Learn how to make yarn yourself on this episode of Telly award-winning Knitting Daily TV with Vickie Howell.
How-To: Spin-Off editor Anne Merrow introduces the ancient art of spinning using a drop spindle and shares ideas for knitting with hand-spun yarn. Perfect lesson on spinning yarn for beginners. Sponsored by Interweave.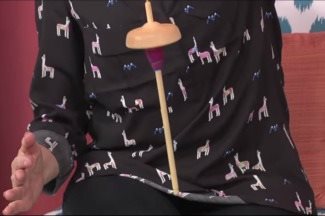 Space to Space: Liz Gipson shares her love of making yarn by hand from her New Mexico studio.
How-To: Anne Merrow explains how to make the most of your special, handspun yarn. Download the Morning Surf Scarf pattern by Jackie Erickson-Schweitzer, featured in Spin-Off, Summer 2008. Sponsored by Interweave.
Download the Z Wave Cowl by Anne Merrow.
Stitch Sampler: Tanis Gray demonstrates the lazy links stitch. Lazy Links, found on page 188 of Harmony Guides: Cables & Arans (The Harmony Guides) edited by Erika Knight. Sponsored by Imperial Yarn.
Loose Ends: Learn how to make reusable dryer balls with Vickie. Prevent static and waste with this fun craft. Sponsored by Yarnspirations.
Get the entire Series 1400 of Knitting Daily TV at Interweave.com
Knitting Daily TV with Vickie Howell is an exciting needle crafts how-to program on public television covering everything from knitting and crochet to stitching, and beyond. The show introduces viewers to designers, authors and teachers and guides in learning new techniques using the latest products in yarn and fiber.
Download free patterns, meet trendsetting knit and crochet designers, and improve or learn new skills and techniques.
Save
Save