Episode 1210 – Creating Drape
This episode of Knitting Daily TV with Vickie Howell is about learning to create beautiful and fluid drape in your knitting.
Watch a preview:

How-To:

On the first segment of the show, host Vickie Howell introduces Barry Klein of Trendsetter Yarns to talk about how yarn choice affects drape in your finished work. Get the pattern for Trendsetter's Orchidea Swing Jacket here!
Vickie is wearing the Die Cut Vest by Sara Morris from knit.wear Spring 2013.
Sponsored by Trendsetter Yarns.
Space to Space:
Travel virtually to the creative space of Steven Berg, the inspirational man behind StevenBe, as he and Vickie discuss what knitting means to them.
How-To: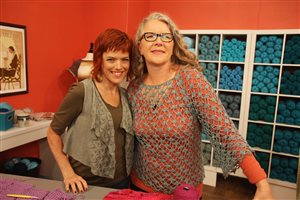 Next, Vickie is joined by Interweave Crochet Editor Marcy Smith to talk about how to create drape in your crochet garments by using different yarn and hook combinations. Get the pattern for Doris Chan's Orphan Scarf, featured in this episode!
Sponsored by Interweave.
Tools of the Trade:
Learn about new and exciting products with designer and author Tanis Gray. On this episode Tanis talks about yarn from Black Diamond Alpacas, Halcyon, and The Knitting Boutique, as well as stitch markers from Toluca.
Loose Ends:
Vickie Howell wraps up this episode with a quick demonstration of how using the same yarn with different stitch patterns creates different drape.
Sponsored by Yarnspirations.
Get the entire Series 1200 of Knitting Daily TV with Vickie Howell at Interweave.com
ABOUT THE SHOW: Knitting Daily TV with Vickie Howell is an exciting needle crafts how-to program on public television covering everything from knitting and crochet to stitching, felting, and spinning. The show guides viewers in learning to make fun yet smart one-of-a-kind designs using the latest products in yarn and fiber. Download free patterns, meet trendsetting knit and crochet designers, and improve or learn new skills and techniques.