Meet the Swatch-Cloth: An Easy Knitting Pattern in Every Issue | Love of Knitting
Sometimes there's just no substitute for square knitting. You know you have to make a gauge swatch, even though the project begs you to hurry up and get started. You aren't sure how well a yarn will perform with a given stitch pattern. You're new to knitting and need an easy knitting pattern.
A typical gauge swatch can serve all of these functions. But I never know what to do with mine (if I haven't frogged it for the yarn). Throw it away? Hang it on the wall? Save it in case I need to fix the project later? Wouldn't it be great to make something useful while checking my gauge, testing a new yarn, or trying a new technique? So I may try a new approach to swatching—making and designing my own swatch-cloths. They'll help me practice what I always preach to new knitters about the importance of testing your yarn.
What is a swatch-cloth? It's an 8-inch by 8-inch square that teaches a stitch pattern or some other technique. Past swatch-cloths have featured a simple cable, a lace motif, graphic knit/purl designs, and applied edgings. Sometimes the instructions are written out; sometimes they're charted. You'll see one in every issue of Love of Knitting, starting with Spring 2015.
Bigger is Better
A swatch-cloth's generous size shows you how the knitted fabric will behave. Yet it's not so big you feel like you're knitting forever.  I admit I've been known to skimp on my gauge swatches, and sometimes I haven't been too happy with the final product. If instead I made a swatch-cloth—and saw that project as the end goal, rather than a means to an end—I'd break some bad habits.
Test Your Stitches (Even in an Easy Knitting Pattern)
Swatch-cloths also provide a golden opportunity to try something new. If, for instance, you're new to lace knitting, these projects are a great way to practice "reading" both a chart and the actual knitted fabric.
Even experienced knitters may prefer to practice a new stitch motif on a smaller canvas, so they don't have to rip out big chunks of sweater. (Yes, I speak from experience.)
It's also fun to try new edge finishes on a swatch-cloth. Pick up and knit stitches all around the edge, then try out edging patterns to see how they work with the center square. You'll work your way around an 8-inch square quickly, and if you don't like the first attempt, frog it and try something else. Use the swatch-cloth as your laboratory.

Useful in the End
Once you've finished a swatch-cloth or two, think about their utility. Give them away as baby gifts. Use them in your powder room or kitchen as mini-towels or dishcloths. Stitch them together in a single row, and you've got a scarf. Or sew them in rectangles for a baby blanket, tote bag, or throw. The possibilities are endless.
Design Your Own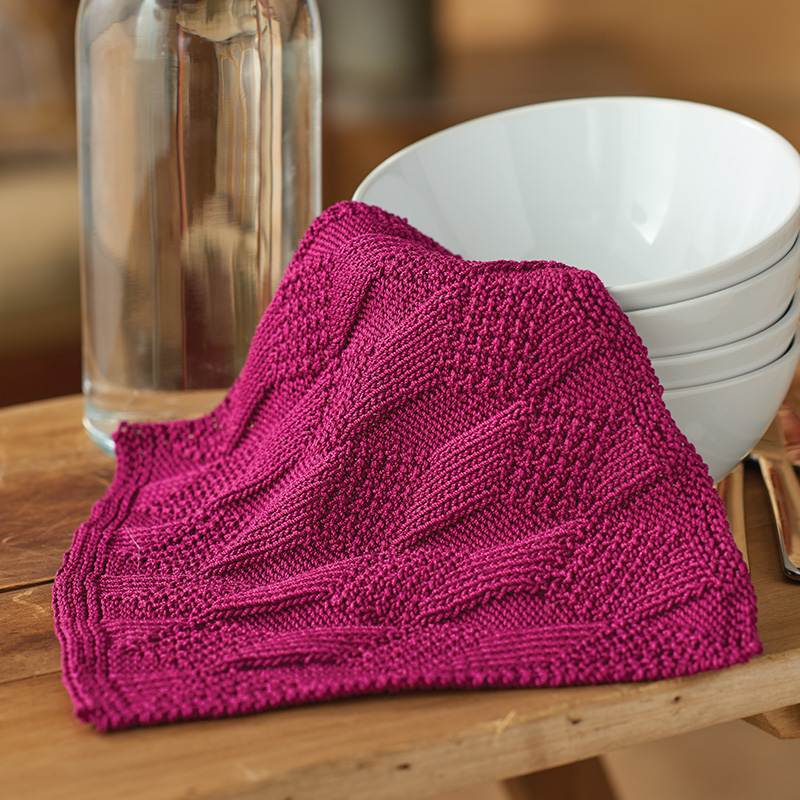 Love of Knitting supplies four swatch-cloth patterns a year, but there's no reason you have to wait for the new issue to come out. Play with new combinations of stitch patterns in the square or on the edges. If you liked the ladybug cloth above, try your hand at designing other critters. When it comes to an easy knitting pattern that supplies instant gratification, it's hard to beat a swatch-cloth.