And The Winning Free Pattern Is…
I love it when you readers surprise me. When I picked out the three candidates for today's free pattern and asked you to vote on which one you wanted, I thought I knew which one you would pick: Matador, because that's the one that is being chatted about on several forum threads and that has been oh-so popular since it was published.

The Sophisticated Rustic Jacket
I was wrong. The one YOU liked best, by an overwhelming vote of 58.2% is The Sophisticated Rustic Jacket, by Pam Allen. And so your wish is our command; the Sophisticated Rustic Jacket is our new featured free download.
Matador came in third, with 17.5%. Ann Budd's Hip Hop Coat won second place, with 24.3% of the vote. (We got thousands and thousands of votes, by the way, the largest response to any Knitting Daily survey to date! Whoo!)
Given that I guessed wrong about which one you would pick, I took another look, attempting to read your minds a bit to see why the vote went as it did. It's my job to pick patterns for the free library and for the store—patterns for YOU, to be blunt—and it's really important to me to give you Good Stuff That You Really Can't Wait To Cast On For, as opposed to patterns that make you say, Oh, That's Pretty, and then turn the page in search of something else that you really are going to knit. So let me see if I can get inside your minds a bit, and you tell me if I am on track or not.
The Sophisticated Rustic Jacket has classic lines that are familiar to any woman who has ever worn a feminine tailored jacket, and thus, most of us can picture how it would look on us. That's its first success: It's a familiar silhouette—a very pretty one, in fact—and it would look good on a variety of body shapes and sizes. Modify the buttons, the trim, and/or the colors, and you have a versatile, classic pattern that, sized appropriately, will look beautiful on EveryWoman.
Its second success is the ingenious "little details" that take it from ordinary to Extra Adorable: The little trim around all the edges. The graceful waist shaping, slightly flaring over the hips. The almost-but-not-quite ruffly edges. The belled cuffs. The tiny shawl collar that does not call overmuch attention to the bust area, but rather draws the eye upwards to your face.
You folks were absolutely right: This jacket is a winner!
OK, so now, you tell me: Why did you choose the sweater you voted for? The inquiring Mind Of Sandi wants to know…
---
Substituting Yarn For The Sophisticated Rustic Jacket
It's a fact of knitting life: You find a pattern that you fall in love with, but the yarn is no longer available. Classic Elite Zelda, the main yarn called for in the Rustic, has been discontinued—so how do you choose a another yarn that will give you an equally great result?

Classic Elite Zelda: singles, 10 wpi
First, see if you can find out what makes that particular yarn special. Zelda is a thick-and-thin wool/linen blend; the thick-and-thin knits up as little "waves" of texture across the jacket. So if you like that effect, then look for a thick-and-thin singles. The second, and most important factor, is gauge: In this case, Zelda is technically a bulky weight yarn, calling for a gauge of 3.75 sts to the inch. Keep in mind that a bulky yarn with a consistent texture (not thick-and-thin) may have a slightly heavier drape than a bulky thick-and-thin yarn will. And finally, Zelda's 70% wool/30% linen blend would give the fabric a bit less bulk overall than an all-wool garment.
The key to successful yarn substitution is…Wait for it…Swatching. Here's my swatching checklist; and here's some more handy tips on yarn substitution.
---

Sandi Wiseheart is the founding editor of Knitting Daily. She is now the author of the popular Knitting Daily blog: What's on Sandi's Needles.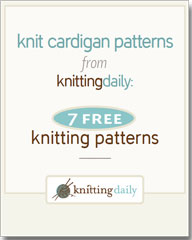 Every knitter has dreamed of the perfect cardigan pattern that he or she might knit some day. From a cozy cable knit to luminous lace, this free ebook will be your dream come true. This is a wonderful and varied collection of cardigans-which is one of the most important pieces in your wardrobe. You'll want to make every one of these knit cardigan patterns, so download your free eBook now and get started (and don't forget to tell a friend so they can enjoy their own copy!).