Add Your Personal Style to Knits Garments!
Note from Sandi: On Monday, Eunny Jang, editor of Interweave Knits, showed you a couple different ways to wear the Saoirse Shawl and the Petal Tank. Today, Eunny returns to show you the Posy Slip, the Watered Quartz Tee, and the St. John's Wort Cardigan, all from the Spring 2009 issue of Interweave Knits. Here's Eunny!
 The Posy Slip

Joanne Krantz' Posy Slip is a sweetly literal way to wear a floral – big clusters of crochet roses line the front and back necklines. Though the dress seems wearable only by one body type, the fabric of the dress is actually knitted in a simple daisy stitch that combats sag and droop, and the shaping is done simply by switching needle sizes—you can customize this dress to fit any body. The simple shaping and fluid yarn combine to flatter curves.
The dress is designed to be worn as shown in the magazine, with a high boat neck in the front and a dramatically plunging back. But we think it also looks sweet reversed, with the V-neck in front (more flattering for some of us!). Take a look, too, at dressing the Slip up or down. It's pretty on its own—but easy to wear over a t-shirt with a hip-slung belt, too.
The Watered Quartz Tee
Teva Durham's Watered Quartz Tee uses an unusual wool yarn knit on bigger-than-recommended needles to create a filmy, diaphanous fabric without needing to knit at a prohibitively fine gauge. Stripes of single rib gather the panels slightly.  Squared-off armholes are quick to knit, but they're also easy to wear—casual and not-too-bare. The Tee is fun by itself—try it with shorts or a jean skirt or wide-legged pants or over a base layer, but it's cute under a jacket as well—play with mixing textures and colors to get a combination that feels tactile and visually rich.  
The St. John's Wort Cardigan


Finally, Cathy Carron strips a sweater down to essentials with the St. John's Wort Cardigan. A piece this simple is truly versatile: in a hard-wearing mercerized cotton, the fabric has enough polish to be dressed up, but the silhouette is casual enough to be dressed down. Close it with its single big button over an empire-waist dress with lots of volume—the softly gathered lower edge echoes the shape of the dress. Or wear the Cardigan open over a more casual outfit—we have a great vintage shirt and jeans here, but it would be just as cute over a long tank top or a simple cotton tee.
 
There's no end to ways to make a knit your own. What are some unexpected ways you've modified or worn a project from Knits? Let us know!
– Eunny
 P.S. Not a subscriber to Interweave Knits? Click here to subscribe!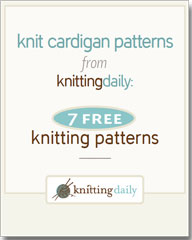 Every knitter has dreamed of the perfect cardigan pattern that he or she might knit some day. From a cozy cable knit to luminous lace, this free ebook will be your dream come true. This is a wonderful and varied collection of cardigans-which is one of the most important pieces in your wardrobe. You'll want to make every one of these knit cardigan patterns, so download your free eBook now and get started (and don't forget to tell a friend so they can enjoy their own copy!).