9 Free Knitting Patterns for Children You Have to Knit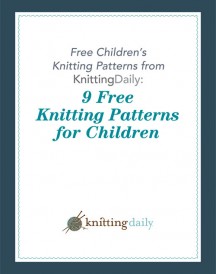 There are so many cute knitting patterns for kids out there, I thought it was time to update our free eBook, 9 Free Children's Knitting Patterns. I've added several new patterns to the mix, and left in some old favorites. It was so hard to choose that I decided to put in nine free knitting patterns for children instead of eight. Lucky you!
There's nothing more satisfying than knitting something special for a child, and seeing their face light up with excitement! How proud you'll be, and how special they'll feel as they try on the sweater you made, slip on those hand knit mittens, or make goofy faces at themselves while admiring their new hat in the mirror.
We want to help you capture that joy by offering you this wonderful collection of free knitting patterns for children.
Children of all ages will treasure the handmade goodies that can be made from the knitting patterns for children in this eBook. And because kids knitting patterns are so much smaller than those for adults, you'll love how quickly you'll see results and have a finished product in hand. Download your free eBook, and get started knitting for children today!
Sneak-Peek at the Free Knitting Patterns for Children:
Petite Feet

By Interweave Staff
This is actually several sock knitting patterns in one. Determine the finished size of your sock and the gauge (based on your yarn and needles); then follow the instructions using the correct numbers from each table. You can use the basic pattern to work a plain sock with a ribbed cuff or integrate the directions with the five different "recipes."
Child's Faux Isle

By Judith Durant
Create a beautiful colorwork sweater using just two colors of yarn: a solid and a self-striping yarn. The self-striping yarn does the work for you in Judith Durant's Child's Faux Isle. You'll get the look of a complex Fair Isle cardigan, but it's really Faux Isle. What a great addition to this collection of free children's knitting patterns!
Vertical Vest

By Jennifer Teigs
The Vertical Vest is knit in the round with worsted-weight yarn. The vertical lines on the front of the vest are worked with chain-stitch embroidery after the body is finished. Let your child choose the colors he or she wants, and you can have this project finished in a weekend.
Counting Crows

By Mary Scott Huff
Inspired by a children's nursery rhyme, Counting Crows' perfect mix of numbers and crows is so perfect for a children's knitting pattern. The black and red color combo is wonderful, but you can easily change it to suit the child you're knitting for. This sweater will become and heirloom.
Teacup Pinafore

By Carol Feller
Any little girl would love to wear the Teacup Pinafore to a tea party. With its picot edging and little bouquets of flowers at the hem, this dress is going to be in heavy rotation. Isn't this just a darling knitting pattern for kids?
Note: The schematic and flower chart for the Teacup Pinafore were accidentally left out of the eBook. So sorry about that! Click here to get the schematic and chart.
Caramel Denim Fair Isle

By Fiona Ellis
Fiona Ellis's Caramel-Denim Fair Isle knitted children's sweater is a beautiful combination of caramel brown and denim blue yarns, perfect for wearing with jeans or a denim skirt. It's fun to knit for children when you have beautiful patterns like this.
Stop-Traffic Circles

By Kristin Nicholas
This colorful sweater is so striking. With the circles on the yoke and the ladder stitch in the body, the sweater has a lot of visual interest, and kids will love wearing it. An interesting detail is that the finished sweater is washed gently in the washing machine to even out any irregularities in the embroidery and to give the sweater a soft semifelted surface.
Unspun Roving Mittens

By Amy Clarke Moore
To keep her toddler's hands warm in the winter, Amy knitted cozy mittens with unspun roving and then fulled them slightly for added warmth. She made a pair for herself as well! This pattern includes sizes for children's mittens and adult mittens, so you can make this part of your toddler knitting patterns and knit a pair for yourself, too!
Earflap Hats

By Knitscene Design Team
These three fun hats with optional pom-poms are guaranteed to make you as happy as your ears are warm! Patterns are included for both children and adults. Kid's knitting patterns are so cute!
Nice collection, right? That Counting Crows sweater is a stunner, and I love the versatility of the Vertical Vest; it's a great unisex pattern, although you could really girl it up with some pink and purple yarn!
I think it's time for me to knit my nephew, Henry, a new sweater. He loves jeans, so I think it has to be the Caramel Denim. Counting Crows, though—I just love it! I told you it was hard to choose…
Making a special gift for a child can be such a rewarding process for the knitter, the child, and future generations to come. Surprise someone you love with a handmade knitted gift from this free children's knitting patterns eBook. Children will love these timeless pieces as much as you'll love making them. Start your favorite kids and toddler knitting patterns today.
Each of these knitting patterns for children was selected to stand-out in its own class—you'll love making these timeless pieces for friends and family.
From a super simple pullover to a clever, easy colorwork pattern, each of these free knitting patterns for kids will spark your imagination and satisfy your desire to create something fabulous.
Best of all, these patterns are the perfect opportunity to get started on a few gifts, no matter the occasion. You'll just love seeing the little one you adore one of these great knitting patterns for children.
Whether you choose to make all of them, or have a special favorite this eBook, 9 Free Knitting Patterns for Children is sure to be one pattern collection you turn to again and again.
Cheers,