What is Steampunk Jewelry and How to Make it
Search for Steampunk on Etsy and you'll find over 295,000 results… and 175 million on Google. Just a few years ago, it was only 70,000 on Etsy and 6.5 million on Google. Wow. Needless to say, Steampunk is not going away anytime soon. If you don't know how to make Steampunk jewelry, you need to know!
What is Steampunk Jewelry, Anyway?
Steampunk gets its name from a time or "world" in which steam power was used, typically the Victorian era and the 1800s. It was a romantic time full of arts and beauty but also full of discovery and new technology, like the invention of steam power. The Steampunk movement aims to combine those two feelings. Though it seems like a hot new idea, the term was actually coined in the 1980s and the work that led to the creation of the term (books, movies, even art) is even older — from the 1960s and 1970s. A large part of the trend's popularity comes from science-fiction writing that was set in the steam age of Victorian England.
Simply put, Steampunk is industrial and mechanical "stuff" with an elaborate and romantic — albeit incongruous — Victorian twist. Good examples seen on Wikipedia include "coal-powered flying boats, ornate submarines and Victorian dialogue." Like I said, incongruous, but interesting!
So Steampunk Jewelry Is…
What could be more Victorian than beautiful, elaborate jewelry? And what seems (at least at first thought) more incongruous with jewelry than nuts and bolts, watch parts, gears and tiny machinery bits, wire springs, metal stampings, and the like? Wait… Wire springs and metal stamping? That's starting to sound a lot like jewelry, isn't it? You bet.
How many times do you see something at an antiques store, a yard sale or an estate sale and think, "Oh, that's pretty, I can make jewelry out of that!"? If you answered lots of times, then you'd probably enjoy making Steampunk jewelry. It's an ideal jewelry style for those of us who love collecting all those little pieces, being a very close cousin to mixed-media jewelry. It's also popular with those who get a thrill out of making upcycled and repurposed jewelry. Steampunk jewelry features mostly metal components — soldered, riveted, stacked, bolted or wired. It's also a blend of opposites and contrasts: rusty and sparkly, heavy mechanical-looking metal gears and bolts with delicate filigree and flowers. Jewelry made with watch parts, old skeleton keys and other bits of metal ephemera never intended (but beautifully suited) for jewelry making is definitely Steampunk.
Jean Campbell has Steampunk style all figured out and describes it as "Jane Austen meets Mad Max." Such elegance and romance, paired with such… non-elegant non-romance! No wonder, then, that there are probably as many ideas about what Steampunk jewelry is as there are watch parts to make it with on Etsy. In the excerpt below, Jean shares more about the definition of Steampunk style and the components that come together to make Steampunk jewelry.
Elements of Steampunk-Style Jewelry
by Jean Campbell
Maybe your closet is filled with bustles, top hats and mourning wear. Or perhaps your style is more about dark eyeliner, black dread extensions and a leather holster for your ray gun. Or maybe, just maybe, you're like me: Not very fashion conscious, but a big lover of jewelry that tells a story or carries a sentiment. In any of these cases, Steampunk-style jewelry might just be your next big thing.
Steampunk jewelry brings to life the fictional characters of this science-fiction genre based in Victorian England. Rather than nuclear-generated power, the Industrial Revolution-era mad scientists and time-travelers that populate these novels run on steam power. This world is filled with brass fittings, steel gizmos, coiled thingamabobs and glowing orbs. Humming in the background is a rich taste of everything Victorian: jet and other rich stones, cameos, silk and taffeta and charms.
With this wildly imaginative genre as your playground, it's easy to make your own Steampunk-inspired jewelry. Here are a few appropriate Steampunk-style materials for you to choose from: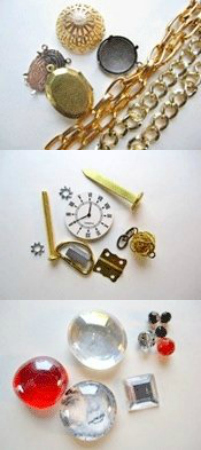 Metal findings and chains: Most jewelry-makers I know have these in abundance in their studios. These materials make a nod to the Industrial Revolution, where common Victorians were all of a sudden able to buy metal that was stamped, pressed and rolled into chains or cut into delicate filigrees. Choose brass and copper for your Steampunk-style jewelry.
Charms and cameos: Queen Victoria was crazy for charms and a mad collector of cameos, so they show up a lot in Steampunk-style jewelry. Incorporate motifs like flowers, leaves, birds, insects, dragons, snakes, scarabs, sphinx and religious symbols to be truly Steampunk.
Glass: Using any type of glass in your Steampunk-style jewelry evokes the Machine Age, which was rich with etched, faceted and molded glass. It was the first time in history that common folk could afford such luxuries. To get the look, use glass beads, glass domes and mirrors.
Stones: When you think about it, England during the Victorian era was a super power and had trade routes worldwide. This boosted their trading with Asia, and so materials like amethyst, opal, turquoise, freshwater pearls, agate, onyx, coral, carnelian, amber, jade, garnet, ruby, jet, sapphire, peridot, jasper and diamonds were more plentiful in England than ever before.
Bits of sentiment: Lockets carrying hair from a loved one or a small painted portrait were popular during the Victorian era. It's easy to incorporate these bits of sentiment by using photographs or other remembrances.
Found objects: The most fun part of making Steampunk-style jewelry is working with found objects! This brings in the time-traveling, mad-scientist vibe I mentioned earlier. Choose small metallic watch parts, skeleton keys, machine parts, war medals, metal game pieces and the like.
Designing Eye-Catching Steam Punk Jewelry
Have a bunch of loose buttons, a random typewriter key, a few yards of lace or a collection of vintage-inspired charms? You'll finally have use for these odds and ends. Once you get in the designer mood to create steampunk jewelry, spread out your findings and objects on table. Start mixing and matching different pieces together to see which designs capture your style and taste. Feel like something is missing from your design? Look around your tool box, attic or craft room for random trinkets that'll be the finishing touch to your piece. As with any jewelry designing, there's no right or wrong, only what speaks to you. And when it comes to Steampunk, the more eclectic and unusual, the better!
Are you looking for some inspiration? Browse our fun steampunk jewelry patterns ready for instant download. You'll be able to fill your jewelry box with funky wire earrings, resin station necklaces, leather cuffs and lots more in no time. They make great gifts, too.
Be sure to also check out our collection of steampunk clothing patterns that are the perfect complement to your quirky jewelry pieces!