Silver Jewelry Making: How to Fabricate Sterling Silver Beads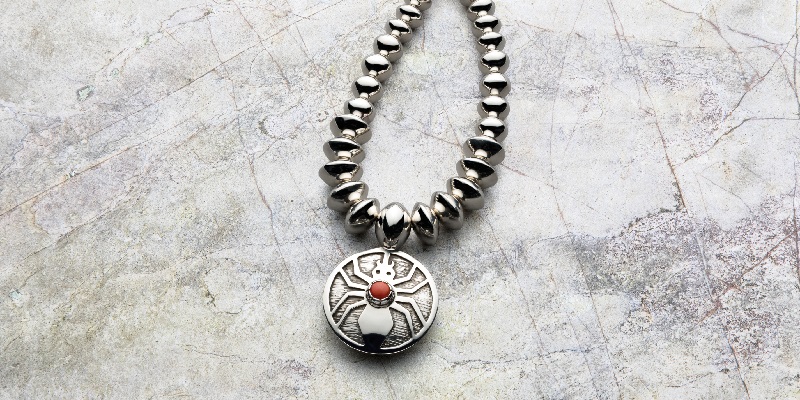 Use traditional silver jewelry making techniques to hand fabricate your own sterling silver beads.
By Michael Anthony Cheatham
You can make the perfect pendant, but your piece won't be complete without the perfect beads from which to hang it. Making your own sterling beads is surprisingly easy–and very satisfying.
ABOVE: The Silvery Spheres handmade silver bead project appears in Lapidary Journal Jewelry Artist, March/April 2018.
What You Need
Skills
Basic metalwork
Forming
Soldering
Materials
24 gauge sterling silver sheet (or you can use pre-cut 24 gauge 14.3mm, 16mm, or 19 mm round sterling silver discs for a quicker project)
sheet silver hard solder
flux/pickle/water for rinsing
Tools
basic silver jewelry making tools: soldering equipment, one pair solid steel dividers, pen/marker, hole punch for metal, steel dapping block and punches, 220-grit sandpaper, basic buffing and polishing equipment
Silver Jewelry Making: Michael's Tips for Perfect Beads
Try to be as precise as possible when finding and marking the center spot. With an off-center hole, your bead will be tilted to one side or the other when strung.
Mark the dapping block dishes in the order you're using them so you don't select the wrong dish and misshape any beads. I mark the dishes with Roman numerals for this purpose.
MICHAEL ANTHONY CHEATHAM, Gemologist (GIA), FJC, has been making jewelry, cutting gemstones, receiving awards and teaching his craft for 25+ years. Mostly self-taught, he studied with well-known Navajo Jeweler Richard Tsosie at Idyllwild School of the Arts Summer Program to learn granulation. Michael continues to show his jewelry at art festivals, American Indian art markets, and museum art shows in the western United States.
See more from this issue in the March/April 2018 Lapidary Journal Jewelry Artist Lookbook!
---
Learn more about silver jewelry making with these resources!