Metalsmithing: Andy Cooperman Shows How to Maximize Your Flex Shaft Muscles and Put This Great Tool to Work!
A long time ago (about 16 years) in a galaxy far, far away (Wildacres, NC), this girl got to learn some solid new skills from these amazing people (Alan Revere and Christine Dhein).
ABOVE: l to r: Christine Dhein, Alan Revere, Sylvia (another attendee), and Tammy Honaman
Wildacres
Wildacres is a beautiful retreat destination housed in the mountains of North Carolina. The retreat I attended was Revere Academy East, hosted by the Revere Academy and the Florida Society of Goldsmiths (FSG).
There were a lot of amazing experiences during this retreat. Aside from all the jewelry making, one night Alan hosted a slide show of his work and accomplishments. It was wonderful to see the retrospective. Another notable event was seeing the Northern Lights. It was magical and I can still see the clear sky and the glow of the lights in my mind. It was also the first time I got to use a rotary tool with a flex shaft and hand piece. Revolutionary!
The Learning Curve
Up until that time I had relied on my Dremel and trying to hold it and control the whole tool, all while drilling metal. This was never easy and made me feel quite inept. Having the chance to use a Dremel with a flex shaft and hand piece attachment was worth the price of admission (okay, maybe a stretch as this really was an amazing retreat but it was a big step forward for me).
The retreat was laid out so you got to take two Revere certificate classes. The pace was amazing and interspersed with time outside, so we could enjoy the grounds and beauty of being in the mountains. There was also a lot of time to share conversations, have a Halloween party (Alan dressed up like the invisible man and it was the best costume of the night!), and in general, create bonds to last a lifetime.
I hold my Revere Academy certificates proudly and am thankful for the skills I draw from to this day. Since then, I've added to the skills and tools I use in my studio but these classes laid a great foundation.
Our Love of Tools
I still have my Dremel, along with the flex-shaft attachment my Dad gave me for Christmas that year, but I now rely on my Foredom flex shaft for my day-to-day as it has a lot more power and a foot pedal for control. A good rotary tool, no matter the brand, is an asset to any studio. It reduces hand stress and makes some tasks go quicker. Watching Andy Cooperman's flex-shaft videos recently, I see how even more valuable this tool is.
In Andy's Master the Jewelry Flex Shaft with Andy Cooperman, Volume 1: Burs, Mandrels, Sanding/Grinding, Rubberized Abrasives & Finishing video, he covers all the ins and outs of a flex shaft, and promises to cover more than you could learn in a class. Well. He did that, and more! I was mesmerized from the opening, learned so much, and got to see things I had only read about. Just in the bur section alone I've learned new things. And now I'm anxious to make something trying a few of the techniques he shared. To follow are a few take-aways I hope inspire you, too.
Using Burs in Your Flex Shaft
"If a drill bit and a file had a baby, it would be a bur." So funny! And Andy is so thoughtful to bring larger than life burs, files, and drill bits to help us see what he's talking about.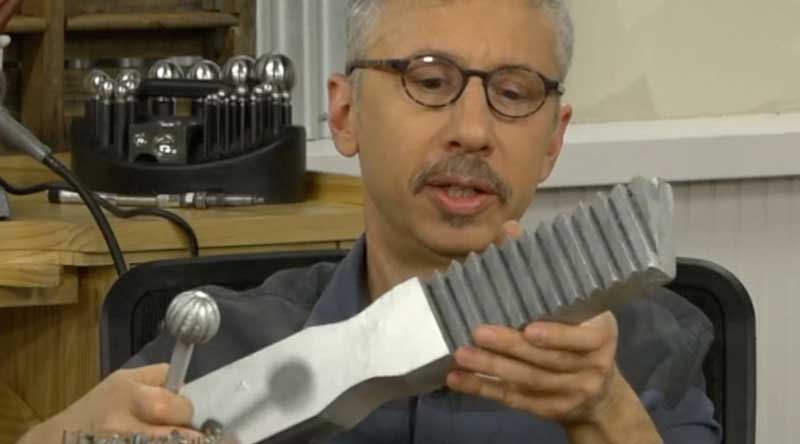 "Burs are great for getting into places a file can't get to. You choose a bur as you would a file — a rounded bur will give you a round contour and a flatter bur, a flat profile." Makes perfect sense but I hadn't actually made that correlation between a file and a drill.
Round Bur
"Round or ball burs are the workhorse. Hold them on an angle when applying to metal so the bur can do its job. Let the teeth of the bur do the work. A round bur doesn't have a lot of teeth at the rounded end so it's better to hold the bur on an angle or so you're working with the equator."
Add texture to metal.
Use a bur to grind metal to create texture plates. Andy shows textured steel here which he then rolls through a mill along with a piece of sterling. He then uses the sterling  create his fibonacci pin. (He assures us this didn't hurt his mill!)
Carve wax.
Carve wood.
Andy used a carved piece of wood to create this brooch showing why knowing how to carve wood makes sense in your studio!
Grind Metal
For this series of rings, Andy creates the ingot, forges the metal, then uses a bur to grind the groove seen in these rings — these are fabricated not cast!
And check out him using a .4mm ball bur to sign his work!
Bud Bur
Andy uses a bud bur to trim and create countersink holes in metal.
In this ping-pong ball earring, he shows how he used a bud bur to trim the holes on the back of the setting. He feels this gives the piece more life and a better finish.
Diamond and Cylinder Burs
Andy uses diamond burs for cutting glass, enamel, ceramic, and rock. These along with some good ol' spit! "The best lubricant as it stays where you put it."
He uses a cylinder bur to cut the metal to form the catch for the fibonacci pin.
Cylinder burs are also good for opening holes in the center of metal. Tapered burs are great for enlarging holes.
Throughout the video, Andy offers guidance and reminders on safety, lubricating the bits and burs, hand placement, foot pedal control, as well as general studio information. If you added up all the pieces and tidbits I bet it would equal three books' worth.
Here's one more tidbit.
If you ever need to remove a broken drill bit from your metal, drop the piece into a super saturated, heated alum (pickling spice) sludge (my word not his) and leave it for about 60 minutes. It's even better if you have a way to keep the sludge warm for this. The drill bit will slowly dissolve enough that with gentle tapping the bit will drop right out and you can get back to work. You might need to remove some copper plating but it's better than having an embedded drill bit, right?
Have a tip or idea to share? We'd love to have your comments added below.
Tammy
Editor and Web Producer, Interweave Bead & Jewelry Group
If you're in the market for a flext shaft and need help choosing and understanding why you might want one, read this Helen Driggs article: Jewelry Tool Tips From the Archives: Choosing and Using a Flex Shaft
To learn the basics of flex-shaft use, read Travis Ogden's take: Intro to the Flex Shaft: What Can It Do For You? Cut, Carve, Polish, Grind…
---
Drop into the Interweave store for all you need to know on using a flex-shaft: