Master Metalsmith Chris Ploof on Making Mokumé Gané Jewelry
Mokumé gané master and metalsmith Chris Ploof is our guest blogger today, sharing the story of how he got started making mokumé gané jewelry. I think you'll be surprised!
Mokumé Gané Jewelry Making
By Chris Ploof
I'm Chris Ploof, and I'm a mokumé-holic.
My love affair began with mokumé in the early nineties. I was a young, fresh-out-of-the-army bicycle mechanic in search of a "cool" wedding ring for my upcoming marriage. On the advice of friends, I visited Rosenblum Goldsmiths in Worcester, Mass. It was there that Chuck Rosenblum told me about mokumé gané and showed me some rings. I was hooked.
Fast forward half a decade. My marriage was over, and I was a full-time student learning to make jewelry. I had never forgotten mokumé and really wanted to make mokumé rings. At the time, Steve Midgett, author of a book on how to make mokumé, Jim Binnion, mokumé visionary and technique pioneer, and George Sawyer were really making the only quality mokumé gané rings out there.
I knew if I wanted to break into this exclusive club, I'd have to be as good as they were. Workshops? Nope. When I could study in small workshop groups with Steve and then Jim, the focus was patterning. No one wanted to share the technique of firing billets.
I started trying to make mokumé gané. And I almost quit, over and over again. See, it's like this. It is really easy to make junky mokumé. But really, really hard to make a high-quality mokumé gané billet. Add in the expense of using billets that don't contain base metals (copper and its alloys never belong in mokumé rings due to galvanic corrosion issues) and having to take a loss every time you refine the failures, and you can just begin to get an idea of how frustrating a technique it is to learn let alone master. And just making a billet that doesn't fail is simply the beginning.
Then you have to pattern it so you have something that looks good to make jewelry out of. You "lose" (hopefully you know a good refiner!) about 40% of the weight of your billet just getting to this point. And, because the billet stuck together initially didn't mean it would survive the hand-forging process. Many, MANY billets broke apart during forging.
I was working in bike shops by day and firing billets at night. Waking up in the morning early, unloading the kiln, and either celebrating if things were stuck together or crying when they weren't. This went on for quite a while.
Jump forward into the new millennium. After dedicating a decade to the process and, oh, I don't know, a quarter of a million dollars in equipment, time, and materials, I was finally getting results good enough to make rings. Further study and investment has made it so we have some of the best mokumé billets on the planet for making rings for our customers.
Want to know more? Do you want to shortcut YOUR mokumé gané experience? After finding it incredibly difficult while I was trying to learn about mokumé, I decided to work with Lapidary Journal Jewelry Artist to make videos showing what I have learned. I hope to help others get a jump start on working with this fabulous material.
Happy Mokumé-ing!
—Chris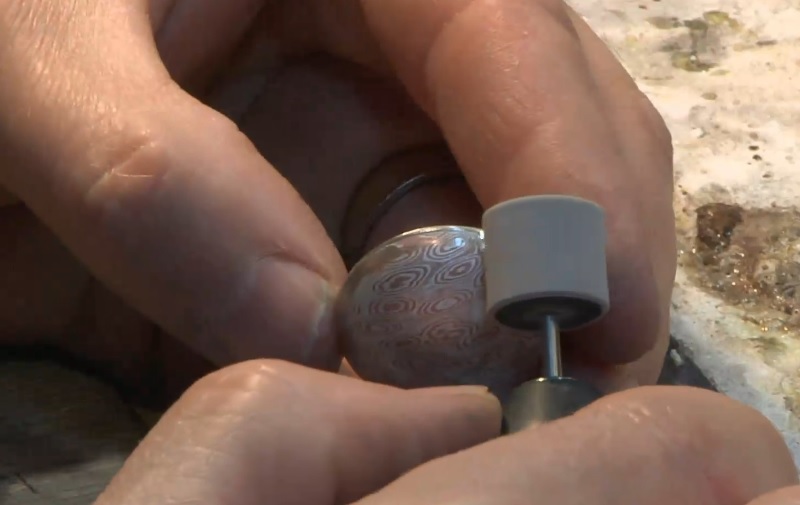 During his mokumé journey, Chris has made all the mistakes and lived through the headaches, making him an ideal person to teach others the craft of mokumé gané. Skip the trial and error and start smart with his new in-depth mokumé gané jewelry tutorial video, Mokumé Gané Jewelry: Make a Pillow Pendant with Chris Ploof, to learn to use purchased mokumé sheet to make a domed pillow pendant (as well as some bonus refreshers along the way, like stick soldering, why to use stainless steel vs steel binding wire, polishing steps, and more–including a brief demo of using a hydraulic press to make a mokumé gane pendant).
And if you want to learn mokumé gané from the start, including how to make your own billets, check out his five-star-rated introductory video, Mokumé Gané with Chris Ploof: How to Layer and Pattern Metals plus Jewelry Design Tips.
P.S. Learn more about Chris and see his work on ChrisPloof.com.
Master mokumé gané from intro to advanced with Chris Ploof's expert videos:
---
Master mokumé gané from intro to advanced with Chris Ploof's expert videos:
Save
Save
Save
Save
Save
Save