Editors' Picks for Jewelry Making: Metal, Color, Tools & More
We all have favorites: favorite jewelry-making tools, favorite techniques, and favorite designers. Our favorites might change from time to time based on the time of year, the latest craze, fashion, or because we have the right to change our minds! There are some favorites that stay on our lists though, as they are classic techniques, people whose work resonates with our own aesthetic, or tools that are an investment that are in our studios forever. To follow are a few favorites that are either new to our list or a reflection of what will be on our lists, in our hearts, and in our studios, for the long haul.
Keum Boo Techniques with Joe Korth
I do love a bit of glam. That's why my favorite jewelry video download at the moment is Keum Boo Techniques: Add Gold Foil to Silver Jewelry with Joe Korth. "At the moment" because what I bend toward most changes with what else is going on just then. At this time of year it's the glow of bright, warm holidays against the backdrop of cold, dark winter. And that's the perfect jewelry setup for a splash of pure gold across an expanse of pure silver.
In his focused, calm, detailed, and very clear way, Joe Korth teaches the ancient Korean technique of gently burnishing 24K gold foil onto silver. Typically keum boo is created using fine silver, but Joe shares how you can first use the technique of depletion gilding on sterling silver, which results in a fine silver layer on the top. Then you can apply the gold foil to that. You'll also learn to make gold foil (optional! — you can also buy it) and develop sumptuous designs taking advantage of the contrast of silver and gold.
Joe will walk you through it all at every step. He also gives you insight into how this low-tech and surprisingly low-cost technique developed and about the culture that produced it — interesting to know, and an interesting story to share with your customers as well. Tis the season for something special, and this in-depth instruction is definitely special. Add a special new skill for your jewelry making self, and a touch of glam to anyone lucky enough to wear a piece of your keum boo jewelry.
Merle White
Editor, Lapidary Journal Jewelry Artist
Explorations in Jewelry Enameling with Susan Lenart Kazmer
There's something magical about watching powdered glass on metal transform into a glossy, jewel-toned surface. Whenever I come across an enameling demonstration, I always find myself watching in fascination. That's why my favorite jewelry video is Susan Lenart Kazmer's Explorations in Jewelry Enameling: Torch and Kiln Techniques.
Chock full of creative ideas, this video is truly an "exploration" of the art of enameling. Susan starts with basic techniques for forming and cleaning metal before moving into creating base layer enamels with the kiln. She then presents a huge range of unique surface effects with the torch, a process that's as informative to watch as it is visually rewarding.
I love her emphasis on combining effects to personalize a piece, whether that means using graphite pencils and enamel crayons, creating designs with stencils, or adding texture with a rolling mill, a drill, or even a toothpaste corrugator! As if that wasn't enough, she continues the journey into sgraffito and crackle techniques, enameling headpins and wires, and expert touch-ups. This video definitely brings the world of enameling to your doorstep as a delightful way to play with color and metal.
Tamara Kula
Producer, Bead & Jewelry Group
Master the Jewelry Flex Shaft with Andy Cooperman
Andy Cooperman is not only a nice guy and talented artist; he's also an amazing instructor. Andy communicates information in a way that is digestible, translatable to your own studio, and he does this all with a sense of humor–but never without making it clear, safety is of the utmost importance.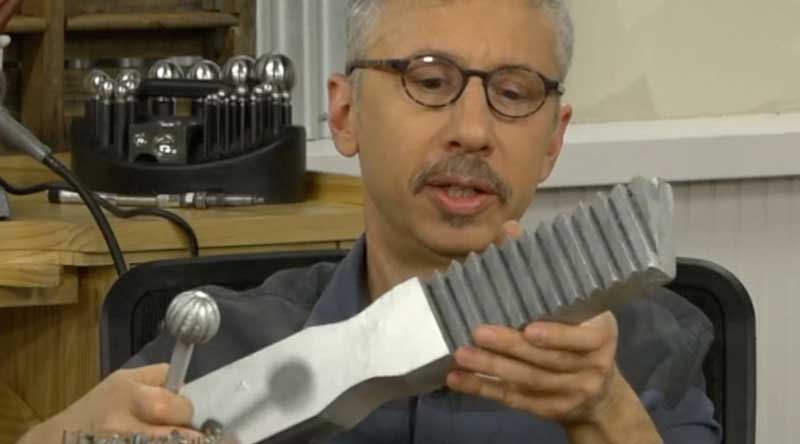 In Andy's Master the Jewelry Flex Shaft with Andy Cooperman, Volume 1: Burs, Mandrels, Sanding/Grinding, Rubberized Abrasives & Finishing video, he covers all the ins and outs of a flex shaft, and promises to cover more than you could learn in a class. Well. He did that, and more! As a teaching aid, Andy makes tools larger than life — literally! He created jewelry-making tools on a scale that makes it easy to explain how and why they work and do what they do.
If you've ever wondered what a flex shaft can do, Andy Cooperman offers you a counter challenge. What can't a flex shaft do? For more information on Andy and his videos, read: Metalsmithing: Andy Cooperman Shows How to Maximize Your Flex Shaft Muscles and Put This Great Tool to Work! and The Flex Shaft Files: Thinking Beyond Boundaries with Andy Cooperman.
Tammy Honaman
Editor, Beadwork magazine and Group Editorial Director, Bead & Jewelry
Weaving Wire Jewelry with Mary Hettmansperger
I love looking for something on Interweave.com and finding an old favorite that I haven't thought of in a while. That often happens with Weaving Wire Jewelry with Mary Hettmansperger—every time I come across it, I get excited again. I first watched this video years ago and enjoyed learning from it so much, I took Mary's two-day master class at Bead Fest the following summer.
The video is so much more than wire weaving. It's a delicious sampling of many essential and beyond-essential jewelry-making techniques. You'll learn "sewing" metal together, twining, weaving wire and weaving metal, cold connections, heat patinas, moving parts, and more. It's great for beginners and for makers with some skill in their pocket who want to learn techniques that can be used in many ways. Mary shares ways to use wire as mechanisms, as accents, and as connections. It's packed full of interesting techniques to learn and I hope you'll check it out! Even after a few years, this video is rewarding and relevant to your jewelry-making education!
Tammy Jones
Web Producer and Social Media Manager, Jewelry and Cloth Paper Scissors
---
Jump in with both feet and expand your jewelry-making and tool knowledge!