The single crochet two together (sc2tog) technique is a great skill to add to your crocheting arsenal. This basic crochet decrease stitch allows you to eliminate stitches from your pattern so that you can create unique shapes. For example, if you want to create a tapered top on a hat, you can use the sc2tog method to create a neat top portion. You can also use this method to crochet some unique lace patterns.
But before we delve into our sc2tog instructions, let's break things down a bit. If you're new to crochet, don't be deterred by the abbreviations. the TOG crochet abbreviation is simply shorthand for "together," while the beginning determines the type of stitch. In this case, SC2 stands for "single crochet two." OK, now you're ready to learn this useful technique!
Single Crochet Two Together in Action:
How to Single Crochet Decrease with sc2tog
Insert hook in next stitch, yarn over and pull up loop (2 loops on hook, Figure 1).
Insert hook in next stitch, yarn over and pull up loop (3 loops on hook), yarn over and draw through all 3 loops on hook (Figure 2).
—1 stitch decreased (Figure 3).
To decrease in crochet is to eliminate one or more stitches. An external decrease is worked at the beginning or end of a row, at the side edge. Internal decreases, like single crochet two together, are worked within the row. Generally you'll find decrease instructions in an individual pattern to suite the particular stitch being worked, but here are the basics on how to single crochet two together (sc2tog).
Interweave patterns will use this symbol for sc2tog: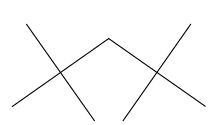 Sc2tog is used to create decreases in single crochets and can be used in all sorts of projects from hats to sweaters. Practice sc2tog with these projects:
1. Webster Witch by Brenda K. B. Anderson, from Love of Crochet Fall 2017
2. Snow Day Sweater by Jane Howorth, from Interweave Crochet Winter 2019
3. Poised Cardigan by Natasha Robarge from Interweave Crochet Fall 2018
—Toni Rexroat
Originally posted May 29, 2016. Updated August 21, 2019.
---
Discover more amazing products for practicing the sc2tog stitch: