Crochet Cable Stitch Guide: 4 Free Crochet Patterns
I have always loved cables, but most of the cabled sweaters and accessories I saw were knitted. Surely, I thought, you can crochet cables. Then I was introduced to the beauty of crocheted cables, and I was hooked. You will be quickly hooked as well. Strands of crocheted post stitches step around and behind each other in an elegant dance. The steps create the swirls of a crochet cable stitch. Crochet cables are seeing increasing popularity and ingenuity in crochet patterns. From bags and hats to socks and garments, the unique texture of crocheted cables is highlighted as both an embellishment as well as an entire fabric.
In this free Crochet Cable Stitch Guide: 4 Free Patterns + Crochet Cables Tutorial eBook, we have gathered an introduction to post stitches, the most common method of creating crochet cables, as well as four tips to make cables crisper and easier to create. Four crochet cable stitch patterns include basic patterns to introduce you to cable and more complicated cables for intricate designs.
 
Cables are easy, and you'll learn how to crochet cables by starting with crochet post stitches. Crochet front post and crochet back post stitches are the most common method of creating crochet cables, and this simple stitch is merely a matter of where you place the hook. Jump into an easy crochet cable pattern with a simple bag or a fun pair of hiking socks. Then apply your crochet cable skills to garments and create more intricate cable designs. Full-color stitch diagrams are immensely helpful as you navigate the way post stitches interact to create crochet cables. Learn how to crochet cable stitch patterns with this comprehensive free eBook.
Crochet Cable Stitch Guide Patterns
Flower and Vines Bag by Melissa Mitchell
This beautiful crocheted cable bag is the perfect introduction to the simple crochet cable. Two easy crocheted cables are worked on each side of this elegant and sturdy bag. Flowers embellishing a stitched trellis add the finishing touch to this cabled bag.
Hiking Socks by Kim Kotary
A pair of crochet cable socks are the perfect option for a cold evening. Thick feet make these socks incredibly warm and mean your socks will survive plenty of wear and tear. The unique construction of the cuffs provides an additional option for creating crochet cables. Test your crochet skills with more difficult stitches including Front Post treble crochet(FPtr), Front Post double crochet(FPdc), and many more!
Stone Path Hat by Lisa Naskrent
This cable hat pattern uses two different types of crochet cables, one that creates an infinite figure eight and a second more solid cable, but all of the shaping is worked in the single crochet stitches between the cables. This pattern includes a stitch diagram, so you can see the construction of cables as they are formed. The final product is a fashionable crochet cable hat perfect for those cold winter days.
Big Thompson Vest by Shannon Mullett-Bowlsby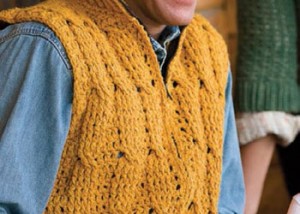 This cabled vest is a stylish option for men and women. Front Post treble crochet(FPtr) sticthes are worked in a bold cable across front and back. A tall ribbed collar can be folded down or zipped up for extra warmth. This gorgeous crochet cabled vest is the perfect layer for a day outside.
Learn how to crochet cables and create modern garments and accessories with this helpful free eBook. You quickly fall in love with the swirling texture of the crochet cable stitch and the beautiful cable crochet patterns. Download this free guide and start crocheting beautifully textured cables. Download your free copy of Crochet Cable Stitch Guide: 4 Free Patterns + Crochet Cables Tutorial today and step onto the floor with your own beautiful crochet cable dance.
 
Best wishes,