Bird's Nest: 10 Ways to Use Jumbo Yarn
Jumbo yarn is popular with crocheters these days. Its large size means it works up quickly, and who does not enjoy a quick project now and then, especially when you need a gift in a hurry? In 2014, the Craft Yarn Council created a new yarnweight designation called Jumbo #7 because of the increasing popularity of extremely oversized yarns such as Red Heart Yarns Irresistible. Mega-thick yarns are the perfect choice for trendy fashion and home décor projects like these.
1. Blankets
A warm handmade blanket on your couch is perfect for chilly winter days. You can even incorporate cables, such as those seen in the Blanket Statement from Crochetscene 2017.
2. and 3. Arm Knitting and Finger Crochet
These techniques let beginners see how stitches are formed on a large scale and are great for teaching children to crochet and knit. Watch an arm-knitting video here.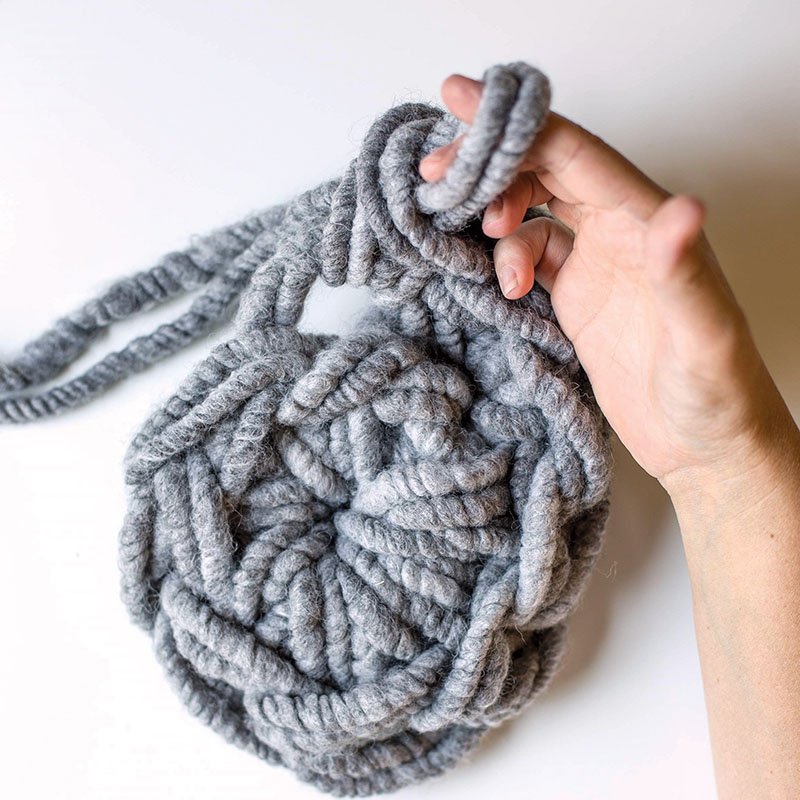 4. Cowls
Personally, I like using arm knitting and finger crochet to make rectangular scarves and cowls, but you can go the traditional way, using a hook to make an oversized cowl such as the Cumulus Cowl from Interweave Crochet Fall 2015.
5. Pillows
You can make pillows and other home décor projects with small amounts of yarn. Crocheting a small project such as a pillow cover lets you dip your toes in the jumbo yarn trend without committing to a large piece such as a blanket. See the Steeped in Stitches Pillow in Love of Crochet Winter 2017 to make one!
6. Baskets
Whip up a few baskets to hold your WIPs or use them to package gifts for friends.
7. Floor Pouf
These are great room accessories. If you have a child in college, a pouf would be the perfect addition to their dorm room. Floor poufs can be finger crocheted, as seen in the Lofty Pouf from Crochetscene 2017.

8. and 9. Poncho and Granny-Square Sweater
Most blanket sweaters are made from granny squares, but they can be made in other forms. Blanket sweaters are great for beginners because they do not require any shaping. If you can make a granny-square motif, you can make a sweater.
10. Hats
Talk about fast projects! Hats can be made in an hour or two and are a fun way to showcase jumbo yarn. Add a pom-pom for a fun touch, as seen on the Hi-Fi Hat from Crochetscene 2017.
Tips for Working with Jumbo Yarns
To accommodate the thick yarn, you will need a large hook or knitting needles. The label on Red Heart Yarns Irresistible suggests that you use a size Q (15 mm) crochet hook or a set of U.S. 50 (25 mm) knitting needles.
Along with a larger hook, you will need a yarn needle for weaving in ends that will accommodate the oversized yarn. Susan Bates has a great set of needles in which the eye runs the whole length of the needle, allowing the yarn to easily pass through.
You must also consider how you are going to finish off the projects. Unlike when using a thinner yarn, it is much easier for the ends to come out of jumbo yarn. To combat this, I suggest that you split the yarn as you weave it in; this will help it stick to itself and stay in place.
One last reminder before you start your first jumbo yarn project: gauge is still important! If you don't check gauge first, you could end up with a project that is much larger or smaller than you planned. Just remember that a stitch in jumbo is much larger than a stitch in worsted weight. If you are off by even just one stitch to the inch, you could end up with many extra inches at the end.
Start Your Jumbo Project Today
Now that you have seen what jumbo yarns can do, I hope you will try this trend! Start searching today for your next project and be sure to give Red Heart Yarns Irresistible or one of the other four yarns on from Love of Crochet Winter 2017 a try.
---
Marly Bird is the national spokesperson for Red Heart Yarns, hosts the YarnThing podcast, and is the author of Cold Weather Crochet (Interweave, 2015). You can learn more about Marly at www.marlybird.com.
---
More Products for You to Explore in Our Store