Using Instagram to Find & Save Project Inspiration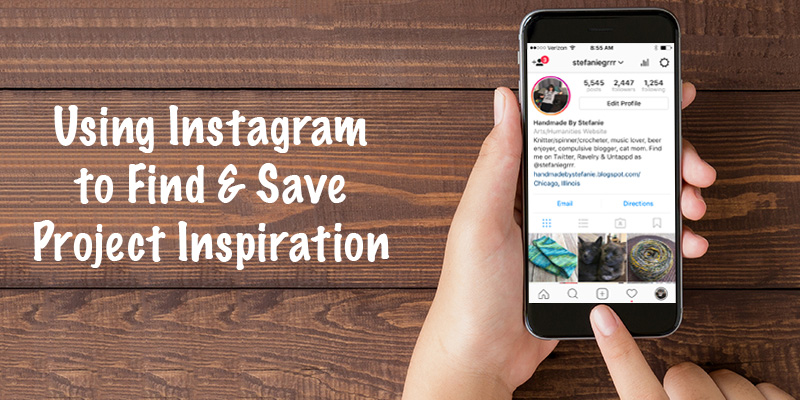 Instagram is a fantastic way to share what you're making with like-minded crafters, but you can also use it as a source of project inspiration! Here are 3 ways to make the most of Instagram's features to help you find, share, and save inspiration on Instagram.
1. Explore Tab
When you hit the magnifying glass on the bottom of your screen, you'll be shown photos and videos that Instagram thinks you will like based on the people you follow or posts you have previously liked []. This is a great way to discover new people to follow or uncover new crafting trends, although it does depend on how you have been using Instagram up until this point. Instagram's algorithm sometimes needs a little "help" to learn what you want to see here, but you can curate this feed by using the "See fewer posts like this" function (click here for instructions [https://help.instagram.com/1105548539497125]).
2. Hashtags
First popularized on Twitter, a hashtag is a keyword or keywords that appear after the # sign, allowing users to search for more posts using that tag. There are two ways that you can explore what photos have been shared using a specific hashtag: you can enter a specific word in the search box when viewing the Explore Tab as noted above, or you can tap any hashtagged word that comes up in your feed to see more photos.
Here are some crochet-related hashtags to search:
#crochettoy
#crochetgram
#grannysquare
#instacrochet
#crochetersofIG
#crochetaddict
#crochetlove
#amigurumi
Photo challenges are another popular hashtag-based way to discover crafty inspiration; these open-ended events usually feature daily (or weekly) themes that participants can interpret however they choose when posting photos to match each prompt.
Here are 3 popular photo challenges to check out:
●       The #yarnlovechallenge launched earlier this year as a one-off event and has been so popular amongst both knitters and crocheters alike that it's continued with new prompts ever since.
●       The Geeky Girls podcast has hosted monthly photo challenges for several years (check out details on their challenge).
●       Me Made May is a popular yearly photo challenge that began as a slow fashion/sewing event, but knitters and crocheters have begun to also participate on Instagram in recent years.
3. Private Collections
Ever wish you could save a post you've found in your Instagram feed so you can reference it later? Now you can! Instagram's new private collections function lets users save posts into albums so that they're easier to find later on. It's a little bit like Pinterest, but you only have to use one app!
When you're scrolling through your feed and see something you'd like to save for later, simply tap this icon:
On the screen that pops up, you'll have the option to save the post to an existing collection or make a new one using the + symbol:
You can view all of your saved posts by clicking the same icon when viewing your own Instagram feed:
Here are some ideas for creating inspirational collections within your own account:
●       Yarns you're interested in trying out.
●       Tips and techniques shared by fellow users.
●       Pattern inspiration grouped by type—for example, garments, accessories, amigurumi, shawls, toys, etc.
●       Color inspiration and palettes to help you pick yarn colors for future projects.
Don't forget to share your own inspiration, too—the more you interact with your fellow yarn lovers on this highly visual platform, the more likely you are to discover interesting new ideas and projects to keep your creative juices flowing!
---
Stefanie Goodwin-Ritter has been knitting since 2003; she has added crochet, handspinning, and weaving to her repertoire along the way. Somehow she turned a love for all things yarn into a day job at Stitchcraft Marketing. You can follow her on Ravelry and Instagram as @stefaniegrrr or read more about her fibery exploits at handmadebystefanie.blogspot.com.
---
Satisfy Your Curiosity