Easy Crochet Projects for Lazy Summer Days
When it gets really hot outside, I start to feel lazy. I don't really want to do anything that requires too much effort—especially outside—because then I get overheated and sweaty and grumpy. So during the dog days of summer, I tend to just read under an umbrella outside or, if it's really hot, retreat to the A/C and binge watch a show or two. But as a crocheter, I can feel productive on these lazy days because I can work on a project while I'm sitting around!
Lazy summer days are perfect for easy, (mostly) mindless patterns. Simple projects are perfect for hanging out at home but they're also great for traveling, so if you're on a road trip, lounging at the beach, or chilling in a mountain cabin this summer, you don't have to worry that a temporary lapse in concentration will cause a major oops in your WIP.
If you want to be lazy with me this summer, try one of these 5 patterns!
---
1. Hi-Fi Hat
The quick-to-crochet Hi-Fi Hat is one of my favorite projects from Crochetscene 2017. Worked in a super-bulky yarn, this chunky hat uses basic stitches in just 9 rounds for a superfast crochet; the awesome pom-pom adds major impact. Crochet it with yarn from your stash or get all your supplies in one place with our kit!
2. Date Night Stole
The lightweight Date Night Stole from Love of Crochet Fall 2017 is perfect for summer: it adds a bit of warmth when the A/C is blasting but won't weigh you down. It uses the versatile V-stitch for a great introduction to simple crochet lace. You can work the easy-to-memorize, one-row pattern for as many rows as you desire—perfect for lazy crocheting.
3. Linked Nesting Baskets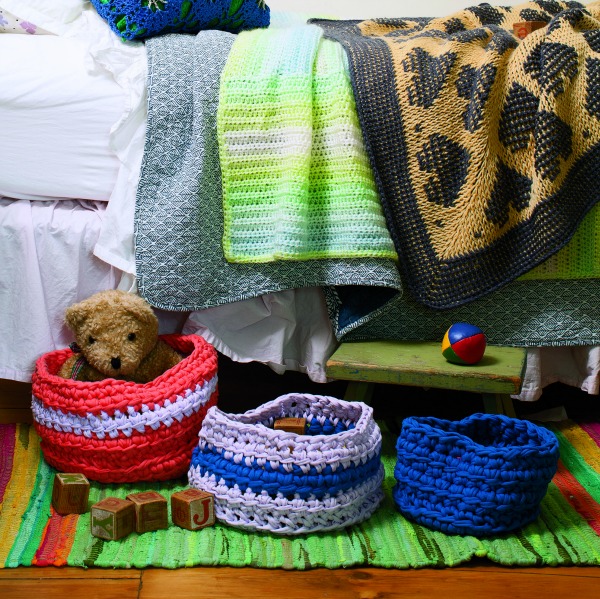 I tend to somehow accumulate a lot of stuff, so I'm always looking for good storage solutions. The Linked Nesting Baskets from Interweave Crochet Home 2015 are both fun and functional, and they're perfect for stashing frequently used items. The T-shirt yarn is lightweight but sturdy, and the simple linked stitches are easy to work.
4. Sprouting Poppy Coaster
The simple, clean lines and bold pops of color on the Sprouting Poppy Coaster from Interweave Crochet Summer 2017 are perfect for summer. The white background is worked in single crochet, and the cheerful poppies use double crochets worked into an adjustable ring. You could easily work up a batch of these while relaxing on a porch (in the shade, of course).
5. Fisherman's Cottage Curtain
I love this curtain! It's lightweight and open and super fun—all the things I look for in a summer project. It's constructed using hairpin lace strips worked with a single crochet spine and joined with a cable join. If you haven't tried hairpin lace yet, Love of Crochet Summer 2017 has an excellent tutorial to get you started. Collect seashells at the beach this summer, then attach them to this curtain for a year-round reminder of summer fun.
What's your favorite lazy-day crochet project? Let me know in the comments!
—Rachel
---
---
More Products for You to Explore in Our Store