How to Crochet the Herringbone Half Double Crochet Stitch
New year! Time to learn new crochet stitches! Here's a fun one that's not too tricky if you already know the half double crochet: herringbone half double crochet. This stitch creates a herringbone texture. A project with a solid background of stitches can be missing a certain level of excitement (both visually and as you work it). The herringbone half double crochet provides more visual interest than the standard single crochet or half double crochet, but it still provides a solid background for garment projects. This is a sturdy, textured stitch that's quick to learn and lots of fun to work.
Step-by-Step
Herringbone half double crochet (herringbone hdc): Yarn over, insert hook in indicated stitch, yarn over, pull up a loop and draw through first loop on hook, yarn over, draw through both loops on hook.
1.Yarn over.
2. Insert hook in indicated stitch.
3. Yarn over.
4. Pull up a loop.
5. Draw that loop through first loop on hook.
6. Yarn over.
7. Draw through both loops on hook.
8. Repeat!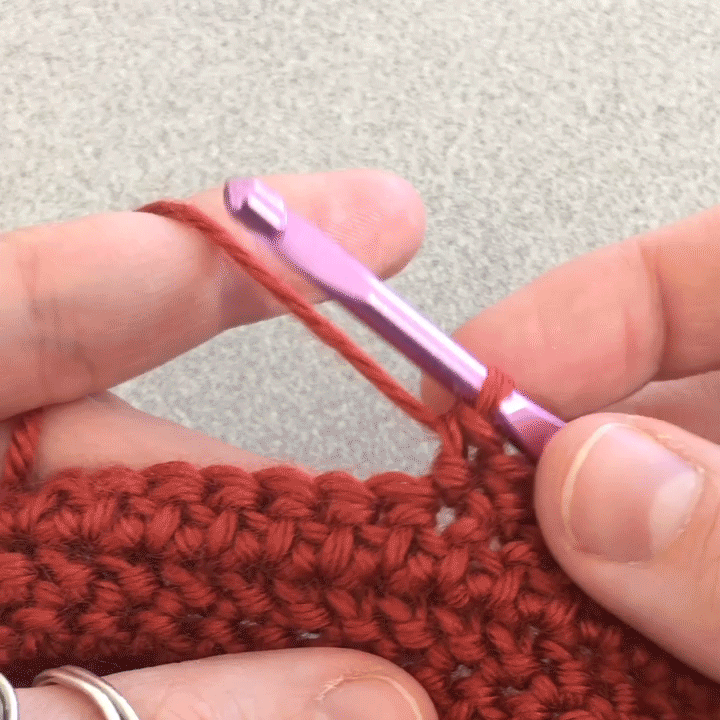 Why do we love this stitch?
This stitch is great for adding texture and making garments. In fact, it's featured in one of our favorite patterns!
The Berry Festive Sweater designed by Shannon Mullett-Bowlsby in Love of Crochet Winter 2017 uses this stitch as the background stitch. The pattern also uses a long section of ribbing at the bottom with back loop only single crochet stitches and a cowl neck that drapes beautifully with a V-stitch pattern. The project is stylish and beautiful, and you won't want to put it down!
Check out Peter Franzi's Beach Hoodie from Interweave Crochet Spring 2016 for a more casual garment that also uses this fun, textured stitch.
Have you tried the herringbone half double? What's your favorite project to make with this stitch? Let us know in the comments below!
Happy stitching!
Sara Dudek
Associate Editor, Interweave Crochet
---
Find More in Our Pages!