Easy Crochet Patterns You Can Do in a Day
We all love simple, quick projects! Whether you are just learning to crochet or have been crocheting for 50 years, easy crochet patterns are the perfect go-to projects for traveling, keeping your hands busy while chatting with friends, and gift giving.
 
In this fabulous free eBook, Simple Crochet Patterns: 5 Free Easy Crochet Patterns, we have compiled five quick and simple patterns to grace your home, create a heartfelt gift, or accessorize a stylish ensemble.
Easy Crochet Patterns You'll Make:
Worked in a simple spiral of single crochet, the Country Rug by Susan Huxley combines four colors of soft, bulky alpaca to create a randomly patterned rug inspired by folk art. This straightforward pattern includes information of working the rug as small or as large as you would like. Make a little rug for a quaint bathroom or an eye-catching work of art for a cozy living room.
The Hook & Weave Shrug by Jennifer Orr is a warm one-size-fits-all shrug worked in luscious alpaca. Perfect for a beginning crocheter, this simple pattern introduces single crochet, double crochet, and treble crochet. A contrasting yarn is woven through the stitches to add interest to this easy shrug.
Add some sparkle to your crochet with the Yellow Leaf Bracelet by Amy Clarke Moore. Dainty leaf beads are pre-strung and worked in a simple beaded single crochet. This trendy accessory is a fun gift for all ages and a great introduction to thread crochet. Designer Amy Clarke Moore loves the gold colors of autumn in Colorado, so she designed this inspired crocheted bracelet to celebrate the season. Not only is this a perfect easy project, but it is one of our favorite one-skein crochet projects.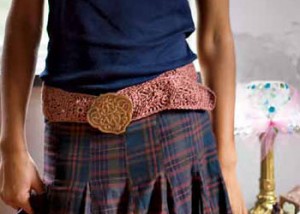 Motif squares create a hip accessory in the Linen Belt by Mary Jane Mucklestone. The linen yarn, held double, and lacy motifs create a pleasing contrast for this simple fashion accessory. Add your own buckle to reflect your own style.
The Organic Cotton Washcloth for Babies by Kim Werker makes a lovely gift, wrapped up with a bar of all-natural soap. The organic cotton yarn and easy stitch pattern creates a durable, textured washcloth ideal for babies. You will love this quick project so much, you may just have to make a couple for yourself. One of our most functional one-skein crochet projects, this organic cotton washcloth makes a lovely, eco-friendly gift, especially when wrapped up with an all-natural bar of soap. Cotton yarn has little memory and tends to grow during use, making it the perfect yarn for this type of project. The soft, absorbent yarn, combined with the lofty, textured stitch pattern results in a durable and luxurious item to gift to a loved one or yourself.
Whether you are looking for a quick gift, an effortless accessory, or an easy stashbuster, you will find the perfect pattern in Simple Crochet Patterns: 5 Free Easy Crochet Patterns.
 
Best wishes,