Ready For Some Summer Bead Weaving Fun?
Summer up here in the Adirondacks means that it's time to spend long, lazy days paddling the canoe, or walking up a mountain, or swimming at our beautiful mountain beaches. It also means lovely, longer days, and that means more time for bead weaving! My August/September issue of Beadwork magazine came just in time, too. Take a look at what I'm going to work on this summer:
On my last big bead-buying binge, I scored a wonderful selection of crystal chatons, very similar to the ones used in Kelly Wiese's Delicate Details Bracelet. I love how the peyote stitch bezels are connected using a simple netting stitch to create a timeless beaded bracelet.
Rae Burns' Fiesta bracelet has all the beads I love best in it: seed beads, O-beads, and yummy pearlized round glass beads. Those pearlized glass beads, so similar to my favorite glass druk beads, have pretty much unlimited potential for working up into funky and fabulous bead weaving designs. Good thing I keep a healthy selection of colors in my stash!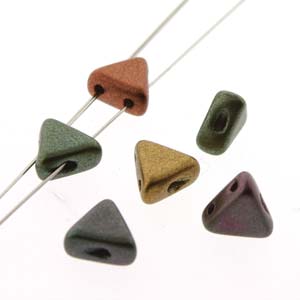 And just in case you were curious about the new Kheops par Puca beads from our friends at BeadSmith, check out this amazing Tessellations collar necklace! The Kheops par Puca beads were designed by Annick Puca, and are a two-hole glass bead shaped like a triangle. They come in dozens of colors and finishes, including my favorite matte, metallic, pastels, and crystal to match my favorite seed beads. These unique and innovative shaped glass beads are distributed in the U.S. exclusively by BeadSmith, so you can ask for them at your local bead shop. Can you imagine all the possibilities for using these in bead weaving? The parallel bead holes lend themselves beautifully for use with your favorite off-loom bead weaving stitches like right-angle weave and netting stitch.
If you're ready to try all these projects but don't have all the necessary beads, we've got you covered: you can find kits for all 3 of these bead weaving projects in the Beading Daily Shop! And while you're there, make sure you get your copy of the August/September issue of Beadwork magazine to see more great bead weaving projects, including the latest from the 2015 Designers Of the Year.
What are you beading this summer? Leave a comment here on the Beading Daily blog and tell us about your summer bead weaving projects!
Bead Happy,

Jennifer