Power Crimping and Other Crimping Tips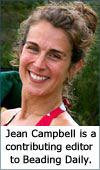 Four-Way Crimp
Ah, the time-eating joys of the Internet . . . I just Googled the word crimp and the #1 entry that came up was the "friendly rap" stylings of The Mighty Boosh, a surrealistic comedy troop that our BBC-viewing friends probably know well. Being from the States, I had no idea! Judging from the half hour I just spent looking at their videos, I guess they have a new fan.
The reason these guys came up on my search engine is they perform "Four-Way Crimp," an absolutely insane song that repeats the word "crimpity" over and over. (Fair readers, be warned: this silly song crescendos into an expletive.) Never again will I be able to crimp beads without this soundtrack playing in my head.
My post last week promised more crimping tricks, so without further ado . . . crimpity, crimpity.
Front Notch First
I just heard from The Impatient Beader Margot Potter with a crimping alert. She knows a guy who knows the guy who invented the crimping tool, and many of us (me included!) have been using the crimping tool incorrectly. You should first squeeze your crimp with the front notch to make it an oval. Then do the back notch biz, then round it again up front. Thanks, Margot.
Base vs. Precious Metal
I'm pretty freestyle when it comes to materials I use in my designs. I often mix brass and gold, glass and crystal, found objects and precision cut beads—whatever looks good. But I'm an absolute snob when it comes to crimps. I always use sterling silver or gold-filled ones because the others have given me such fits. So, if you want to save yourself a headache, only buy the high-end ones.
Power Crimping
If you're stringing heavy-duty beads, it's worth the time and effort to add more than one crimp at each end of your strand so the bead weight doesn't overpower the crimp connection. Just string a crimp, then a bead, and another crimp. Make sure to pass back through both crimps and secure both! Crimp covers or wide-holed beads that slide over a crimp are great ways to cover up your tracks.
Decorative Crimping
Most of us have plain 2x2mm crimp beads in our stashes, but the sizes and styles certainly don't end there. There are chunky crimps (3x3mm) that work well for cords and multi-strand pieces. There are also twisted, or "tornado" crimps—you just squeeze these with chain-nose pliers to secure them. Also available are clasp crimps–you just squeeze these in the middle, too. If you're making a piece that features "floating" beads on a wire, use 1x1mm crimps to secure the beads in place. They'll hardly be noticed along the wire and will keep the beads from sliding around.
Multi-strand Crimping
What happens when you string a multi-strand piece and you can't get all the strands back through the crimp? Here's the trick to making it work:
Step 1: String the crimp tube and half of the clasp on all the strands.
Step 2: Pass as many of the strands back through the crimp as possible. Let those that don't fit through stay put (in this case, the blue wire).
Step 3: Secure the crimp, then carefully trim the excess wires above the crimp (the blue wire).


If necessary, also trim the tail wire below the crimp (the pink wire).

Do you have any tricks for crimpity crimpity? Or maybe some friendly rap of your own? Share them on the website!
---
Jean Campbell writes about beading and life every Wednesday on Beading Daily. If you have comments or questions for Jean, please post them on the website. Thanks!
---