Learn the Cylinder Bead Numbering System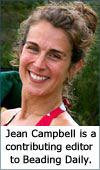 If you're a cylinder bead fanatic, you probably know about the elaborate numbering system used to identify each bead. Or maybe you don't? If the latter is the case, read on to find out about this cylinder bead Dewey Decimal System of sorts. Tucking this minutia in your noggin will give your bead shopping savvy a boost.
The cylinder beads available in the United States are primarily from two Japanese companies—Miyuki and Toho. Both companies make fabulous beads in a staggering array of colors and styles. One handy thing for beaders is that each company tags their beads with a product code: The first letters identify which type of bead it is; the set of numbers that follow indicate which color it is. So, for instance, a "DB 723" is a size 11° (DB) shiny red (723) cylinder bead.
The good thing about knowing the numbering system is that if you're dying to buy that same type of bead you used four years ago in a bracelet you gave away to Aunt Mabel, you don't have to search hard to find it—you can often just order it by the number. (A couple words of warning: Like fuzzy stuff (yarn), though, beads have dye lots. So don't be surprised if the color in that new tube of Aunt Mabel beads varies slightly from your last one. Also, the names of beads vary greatly between American distributors—these English versions aren't standardized.)
You can search the sample cards for cylinder beads and other seed beads on each of these company's websites. When you're looking at the sample cards, don't bother trying to make sense of the order—they are numbered a bit willy-nilly. But once you find the color you're looking for, you can head to your local bead shop and request it by number! Aren't YOU just the sassy smart bead buyer now?
---
Jean Campbell writes about beading and life every Wednesday on Beading Daily. If you have comments or questions for Jean, please post them on the website. Thanks!
---