How to Choose the Right Shape Earrings for Your Face Shape
Recently, we have noticed only a small portion of Beadwork magazine gets devoted to earring patterns. We just don't get as many earrings submissions to share with you as we do bracelets and necklaces. However, in the October/November 2018 issue, we're giving you three new earring patterns to revamp your wardrobe! Can't decide which pair to make? Check out our handy guide for choosing the right shape earrings for your face shape and let us help you decide!
Have you ever headed down the path of choosing a design, get really excited about picking the beads, shopping for all the supplies, then make the design, only to try it on then feel less than thrilled? Well, that's where I found myself. And now, I'm here to tell ya – there's a way to choose the right shape earrings for your face shape so you can start off on the right foot.
Take a look in the mirror first then pick a design that suits the shape of your face (or make sure you adjust the bead weaving pattern to suit YOU).
Face Shape to Earring Shape
Here's a quick overview of each face shape and which earrings work well for that shape.
Is your face round, circular, widest at the cheekbones without tapering to the chin.
A round face is complemented by long drop or dangle earrings. This design will elongate your face and make it look slimmer. Icarus, by Barbara Falkowitz would be perfect for you.
Are you more a narrow and rectangle kinda' girl, with your head the same width from forehead to chin?
Choose earrings that emphasize the width of your face. Studs, clustered earrings, short dangles, and hoops in a medium to large size are a good fit for you. Try on Quatrefoil, by Lisa Kan.
Do you have a wide square jaw and your forehead and jawline similar widths?
Soften the edges of your face with earrings that are medium to long with rounded edges. Oval shapes are a great go-to so consider Coachella, by Melinda Barta.
For the lovely heart-shaped face (I always think of Reese Witherspoon), you have a forehead wider than your cheeks and the lower half narrows like a heart.
In this case, Cathedral Windows, by Jennifer and Susan Schwartzenberger, would be a good fit. This design would counterbalance your chin as they are wider at the bottom than the top.

Oval shaped faces are the luckiest of all as any shape earrings work for them.
For an oval shaped face, I suggest  Floret by Tina Hauer for it's color and drop with a beaded floral cluster.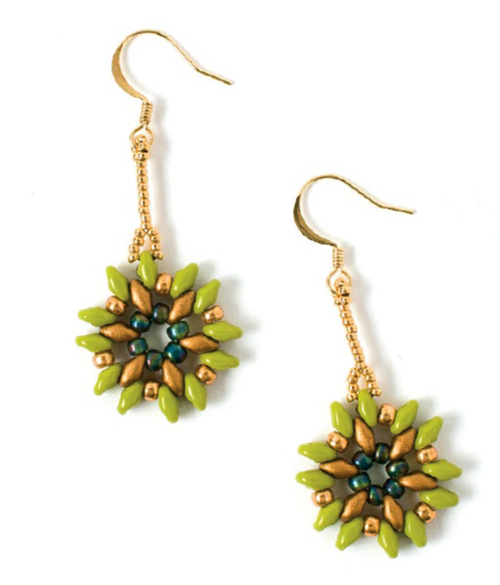 And Duo Drop Earrings by Barbara Falkowitz and Amy Haftkowycz, 'cause they are just so pretty with a touch of sparkle.

If you are wondering how to classify the earrings from the October/November 2018 issue we suggest:
Susan Sassoon's Tinos Flower Earrings as earrings wider at the bottom, perfect for a heart-shaped face.
Jill MacKay's Netted Pearl Earrings as drop or dangle earrings perfect for a round face shape.
Debora Hodoyer's Irisbell Earrings as clustered earrings great for a rectangle face shape.
Handy Guide
No matter your face shape, joy truly comes from weaving our beads. So even if you do create a pair of earrings that leaves you feeling a little flat — maybe you were really making them for your friend who has a heart-shaped face and you just didn't know it at the time. Pass them along in a nice little gift bag then choose the next design on your list. No matter what, just keep beading!
Yours creatively,
Tammy
Updated September 1, 2018.
---
Get this product today in our shop!