Gift Ideas for Beaders: Jean's Wish List and a New Reader Poll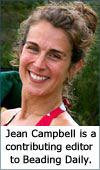 This Beader's Gift List
When my birthday or the holidays roll around and people ask me what I'm wishing for, I give the rote, "Oh, just good kids, health, and a nice dinner with loved ones." But it's all a sham. I secretly LOVE receiving gifts! The big fancy ones are nice, but the gifts I get really excited about are those that the giver really puts some thought into. Something tailored just for me. This type of gift—whether made or purchased—comes with a card saying, "This really reminded me of you" or "I knew you needed this."
Problem is—being the frugal "all I want is nice children and to avoid the flu" puritan that I am, I realize that most of those around me don't really know what I want or need. So, now that I'm at an age where the red hat and purple dress are right around the corner, I've decided I'm going to make my needs clear. And when my birthday approaches this fall, I'm going to give out a list. This list. It's a jumbly list, filled with somewhat obscure beading products. But as you can probably imagine, my stash is already obnoxious and it's the whipped-cream-with-sprinkles additions I now crave.
1.  Metal/rock tumbler
This has been on my list for a long time. I need a tumbler for polishing my metal clay pieces, but I'd also like it for tumbling rocks, sea glass, and other found objects.
2. True-color floor lamp
There are all kinds of true-color task lights, but the one I have my eye on is big–meant to sit by the couch as a beautiful piece of furniture. If I had something like that, I'd be able to see well as I bead in comfort.
3. Gold metal clay paste
I've got an itch to experiment with adding gold accents on my silver metal clay pieces, and this paste looks like the easiest way to achieve the look.
4. Bead pattern design software
There are quite a few programs out there that help you chart patterns, something I'd like to revive in my own work.
5. Milagros
I have such an affinity for these stamped metal "miracles" charms from Latin America that I find my stash constantly short. It's fun when other people pick these out for you because they symbolize a prayer or need. A perfect, thoughtful gift!
What's on your wish list? Take this quick poll and we'll share the results in a future newsletter.
---
Jean Campbell writes about beading and life every Wednesday on Beading Daily. If you have comments or questions for Jean, please post them on the website. Thanks!
---