Family Beading Fun: A Kid-Tested Project Idea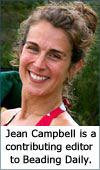 The prospect of spending a week at my brother's cabin this summer was an absolute thrill for me and my family. My vision included floating in an inner tube on a still lake with no noise other than the "plop" of an occasional fishing bobber. The kids' visions included wild inner-tube rides with their cousins punctuated by bottle rockets and sparklers. And, of course, my bottomless-pit teenagers also envisioned the all-day feasts that always are part of a trip to the lake.
While we were packing our bags, though, I got a buzz-kill thought  . . . rain + small cabin in the wilderness + children of various ages (7–49) counting on me to come up with a creative way to suppress the boredom. So I rummaged through my bead stash and packed away a spool of red waxed linen, several dozen natural bone and wood beads, and a wide selection of size 6° seed beads. Thank goodness I did, because that portable stash turned out to b
e one of the week's golden tickets.
Like many of you, I've been beading for a long time in front of my family, and they have shown little to no interest in participating themselves. Oh, when the kids were little, perhaps. . . . But this vacation week was different. Everyone got in on the action! We didn't even have rain, but once the first person macraméd a necklace, everyone else wanted one, too. Then it became a sort of contest. Who could tie knots the fastest? The straightest? The curviest? Who did the coolest design? The most interesting toggle? Wearing our pieces became like a badge of honor, as if we were Survivor contestants and these beaded items helped keep us on the island. It was an absolute hoot and certainly a welcome, healthy diversion in the absence of cell phones, TVs, and iPods.
This project is fun to do, but it's also surprisingly stylish. The thin waxed linen provides a more sophisticated look than thick hemp would, and I think even the little ones were excited about how "pro" their finished pieces looked.
Survivor Macramé Bracelet or Necklace
1. Cut 2 pieces of waxed linen about five times the length you wish your finished piece to be.
2. Fold the cords in half and twist them tightly together at the center for about 1 inch. Tie an overhand knot to secure the twist, making a loop.
3. Use the two outside cords to tie macramé square knots around the two inside ones. String beads on the cords as desired. When the outside cords become shorter than the inside ones, just switch them. A good place to do this is when you're adding beads—the swap can be hidden within the bead holes.
4. Finish by stringing a toggle bead that fits snugly through your initial loop. Tie an overhand knot and trim all the cords.
Do you have some ideas for group beading of all ages and skill levels? Share your comments below!  
---
Jean Campbell writes about beading and life every Wednesday on Beading Daily. If you have comments or questions for Jean, please post them on the website. Thanks!
---