Express Yourself With Bead Crochet
Toni Rexroat is the editor of Crochet Me
A note from Jennifer:
Today's guest blogger is our own Toni Rexroat from
Crochet Me
.
Toni loves how bead crochet edgings allow us to express ourselves, and they're certainly one of my favorite projects. Bead crochet edgings are so versatile—they can be used to embellish clothing or they can be used on their own for delicate bead crochet jewelry. Enjoy this free bead crochet pattern from
The Beaded Edge
, and use your bead crochet to express your own unique sense of style!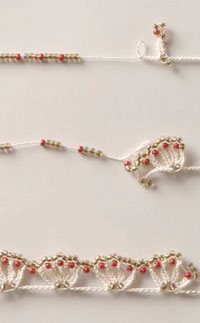 Bead crochet edging for a cozy winter shawl from The Beaded Edge.
In this DIY age, fashion has become an outlet for self-expression. As crocheters, we craft our own garments and accessories, fully guiding the look of the finished project, from yarn color to fit. The resulting piece communicates who we are. Through crochet, we also transform purchased clothing, embellishing a mass-market product with unique flowers, appliqué, or edgings and making it a one-of-a-kind ensemble piece.
Embellishing for self-expression is not a new idea. Generations of women in diverse cultures have used crochet edgings to communicate emotions or decorate their clothing and accessories.
In Turkey these decorative edgings are called "oya" and are used to decorate beautiful scarves, which are often worn for traditional or religious occasions. A beautiful and touching collection of traditional Turkish edgings are compiled in The Beaded Edge.
Beaded crochet edgings are an easy and quick way to infuse a garment with your personality. Play with thread color and bead type to make a top a little bit steampunk or add a touch of sophistication.
To get you started I will share with you one of my favorite beaded crochet edgings, Lace Flower, from The Beaded Edge. So go ahead; choose your favorite thread and beads and use this traditional Turkish edging to express yourself.
Do you love bead crochet? Pick up both
The Beaded Edge
and
The Beaded Edge 2
and get ready to be inspired! Each book is packed full of lovely bead crochet patterns that you can use to make bead crochet jewelry, add a special touch to your favorite accessories, create bead crafts and home decor, or use it to add a personal feeling to special gifts. (The holidays are right around the corner, you know!).
Pick up both books in this special bundle in the Beading Daily Shop and save 20 percent. Or, if you already have The Beaded Edge, make sure you check out The Beaded Edge 2 and see even more wonderful ways to personalize your favorite clothes and accessories!
And one more reminder—October is National Breast Cancer Awareness Month, and 30% of all proceeds from the Beading Daily Shop (including The Beaded Edge and The Beaded Edge 2 bundle) will be donated to the National Breast Cancer Foundation.
Bead Happy,
Jennifer